---
"A powerful sequel with sustained themes of friendship and honor. (Science fiction. 10-14)"
---
In this sequel to
Above World
(2012), best friends Aluna and Hoku pursue their quest to prevent power-mad Karl Strand from controlling a futuristic world in which genetically modified races live in the oceans, skies and deserts.
Read full book review >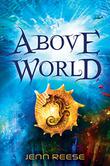 ---
"Imaginative and riveting. (Science fiction. 10-14)"
---
In a future world in which habitable space has been exhausted, Humans have physically modified to survive in the skies, oceans and deserts.
Read full book review >