---
"Despite fair measures of bloodshed and gunfire, all the long thoughts and dusty desert trails will make the pacing seem slow to readers who haven't already thrilled to Jim's earlier adventures. (Historical fiction. 11-14)"
---
A sad tale threaded with deaths, regrets and the importance of memory and story concludes this three volume narrative of a young Canadian wanderer in the Old West.
Read full book review >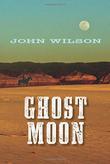 ---
"A tale of the Old West with a sturdy historical base and nary a dull moment. (Historical fiction. 11-14)"
---
A young wanderer lands in the middle of New Mexico's Lincoln County War in this middle volume of the oater Desert Legends Trilogy.
Read full book review >