Best Nonfiction of 2012
(Page 7)
Eric Liebetrau, Editor
Every year in September, I start thinking about the best books of the year, combing through the archives and querying my reviewers, the consummate professionals who assess the merits of the important—and not-so-important—books that are published every year. Like last year, 2012 proved to be a banner year in adult nonfiction. With nearly 200 starred nonfiction reviews to choose from, and nearly as many books that were significant in one way or another, it was exceedingly difficult, as always, to choose the top-100 list.
Choosing any "best-of" list is always a massive undertaking, a task guaranteed to involve plenty of discussion, heated debate and perhaps even controversy—and that's as it should be. Whether it's new superlative work from some of the biggest names in nonfiction—Gail Collins, Eric Jay Dolin, Douglas Brinkley, Steve Coll, David Nasaw, Jonathan Kozol, Robert Caro, Anne Applebaum, Jill Lepore and Christopher Hitchens, among others—or unexpected surprises like Gabrielle Bell's outstanding graphic memoir, Ben Sandmel's comprehensive, lavishly illustrated biography of New Orleans great Ernie K-Doe or Francis Spufford's kaleidoscopic history of the economics of the Soviet Union, there are plenty of gems here to discover.
Spread out over a diverse variety of subjects and topics and representing more than 20 different publishers—and even more imprints—the Best Nonfiction Books of 2012 list amply demonstrates that, even as bookstores continue to disappear and libraries see their budgets cut even further, quality books are still out there.
Though divided roughly by subject, please note that some books don't fit neatly into any category, but have been slotted into the most appropriate category; also, some books appear in multiple categories.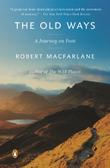 THE OLD WAYS

: A JOURNEY ON FOOT
---
"A breathtaking study of "walking as enabling sight and thought rather than encouraging retreat and escape.""
---
Macfarlane (English/Cambridge Univ.;
The Wild Places
, 2008, etc.) returns with another masterful, poetic travel narrative.
Read full book review >
HELLO, GORGEOUS

: BECOMING BARBRA STREISAND
---
"Even though we know the answers to most of the questions—Will our heroine win the coveted role of Fanny Brice in Funny Girl? Will she live happily ever after with her Prince Charming, Elliott Gould?—this book makes getting to them a treat."
---
Hollywood chronicler Mann (
How to Be a Movie Star: Elizabeth Taylor in Hollywood
, 2010, etc.) divulges the blood, sweat and tears that propelled a diva's rise to stardom.
Read full book review >
DESERT AMERICA

: BOOM AND BUST IN THE NEW "NEW WEST"
---
"Less self-absorbed than Luis Alberto Urrea, less cynical than Charles Bowden, less otherly obsessed than William Vollmann—and right in the pocket, a necessary chronicle of a weird corner of America."
---
A savage journey into terror, cacti, drugs, desperation and all-around anomie in the superheated atmosphere of the desert Southwest.
Read full book review >