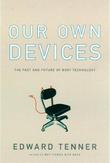 ---
"A treat, all in all, for fans of technological history and would-be inventors."
---
A satisfying tale of chairs, shoelaces, spectacles, and other everyday technology that "helps shape how we use our bodies."
Read full book review >
---
"Damasio is the first to admit that he cannot prove all he says. In the meantime, one can read with pleasure and share the excitement of a neuroscientist who sees that in the union of the many parts of the human brain lies its strength."
---
Few neuroscientists today would defend Cartesian dualism--the idea that mind and body are separate--but Damasio takes one more leap: Not only are philosophers wrong to separate brain and body, but psychology's separation of reason from emotion is also wrong.
Read full book review >