Best Teen Books of 2012
(Page 3)
Vicky Smith, Editor
When a significant part of your job is surrounding yourself with the best books of the year and picking the 100 top titles, you know you've got it good. Not easy, but good. I start to narrow my choices down right after Labor Day in a weekslong process that involved input from my corps of reviewers and lots of reading. (Oh, darn.)
The variety I found in sifting the year's best books was heartening. I found nail-biting thrillers of both the post-apocalyptic and techno kinds, gritty tales of contemporary kids confronting big problems, soaring fantasies that immersed me in unforgettable worlds, sharply intelligent science fiction, provocative nonfiction, inventive and fresh paranormal adventures, transporting historical fiction and laugh-out-loud comedy. Some books that did not receive stars in the initial review process turned out to have a long-lasting impact, and I am pleased to include many of these on my final list. There's more than just a little something for everyone here; explore and enjoy.
---
HOPE: A TRAGEDY
---
"Brutal, irreverent and very funny. An honest-to-goodness heir to Portnoy's Complaint."
---
A family man suffers from money woes, a judgmental spouse and a hectoring mother. But things don't get really funny until he discovers Anne Frank living in his attic.
Read full book review >
WINTER JOURNAL
---
"A consummate professional explores the attic of his life, converting rumination to art."
---
The acclaimed novelist (
Sunset Park
, 2010, etc.), now 65, writes affectingly about his body, family, lovers, travels and residences as he enters what he calls the winter of his life.
Read full book review >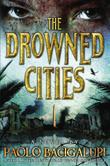 THE DROWNED CITIES
---
"Breathtaking. (Dystopian. 14 & Up)"
---
In the visceral and deeply affecting companion to the Printz Award–winning
Ship Breaker
, Bacigalupi returns to a dark, war-torn dystopian future in which severe climatic change and years of political upheaval have left the United States a bloodied and ravaged landscape.
Read full book review >
PHOENIX ROSE
---
"An engrossing blend of creepy atmospherics, gory jolts and mind-bending conundrums."
---
In Bailey's (
Palindrome Hannah
, 2005, etc.) horror saga, a small town seethes with ghouls, apparitions, pranksters and dysfunctional families.
Read full book review >
THE UNDERTOW
---
"Immediate, poignant and rarely predictable, this searchingly observant work captures a huge terrain of personal aspiration against a shifting historical and social background. Impressive. "
---
The architecture of a family, constructed over decades, through relationships, wars and secrets, is assembled with fine detail and insight in an exceptional 20th-century saga.
Read full book review >
KINGDOM COME
---
"Ballard writes brilliantly about the nightmarish underside of modern life, and this novel makes us poignantly aware of the loss of his voice. "
---
Ballard (1930–2009) creates a world reminiscent of
A Clockwork Orange
and
V for Vendetta
in this novel of suburban fascism.
Read full book review >
OCEAN SUNLIGHT

: HOW TINY PLANTS FEED THE SEAS
---
"Readers will want to visit more than once to capture both the science and the abundant sense of celebration here. (Informational picture book. 5-11)"
---
THE HYDROGEN SONATA
---
"Sheer delight."
---
Addition to Banks' wonderful space-opera series (without the middle initial, he also writes impressive mainstream novels) about the far-future galactic Culture (
Surface Detail
, 2010, etc.), a liberal-anarchic, multispecies civilization guided and sustained, more or less invisibly, by Minds, artificial intelligences that take such physical forms as spaceships and habitats.
Read full book review >