Best Children's Books of 2013
(Page 2)
---
DOLL BONES
---
"Spooky, melancholy, elegiac and ultimately hopeful; a small gem. (Fantasy. 10-14)"
---
A middle-grade fantasy dons the cloak of a creepy ghost tale to deliver bittersweet meditations on the nature of friendship, the price of growing up and the power of storytelling.
Read full book review >
JINX
---
"Unsurprisingly, Jinx displays hints of developing powers beyond the ordinary. Astonishingly, he and his world still seem fresh, for all that they echo familiar tropes. (Fantasy. 10-12)"
---
Making unusually entertaining use of well-worn elements, this series opener plops a dense but promising young wizard-in-training between a pair of obnoxious rival mages.
Read full book review >
THE WATER CASTLE
---
"This one is special. (Fiction. 10-14)"
---
Weaving legacy and myth into science and magic, old into new and enemies into friends, Blakemore creates an exquisite mystery.
Read full book review >
EMANCIPATION PROCLAMATION

: LINCOLN AND THE DAWN OF LIBERTY
---
"A convincing, handsomely produced argument that the proclamation, for all its acknowledged limitations, remains a watershed document. (endnotes, bibliography, extensive timeline) (Nonfiction. 12-15)"
---
A vivid depiction of the issues and tensions surrounding abolition and the development of Lincoln's responses to them as the United States plunged into the Civil War.
Read full book review >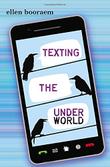 TEXTING THE UNDERWORLD
---
"Like Conor, readers will emerge from this adventure a little bit better equipped for heroism than before. (Fantasy. 10-14)"
---
Fantasist Booraem (
Small Persons with Wings
, 2011, etc.) turns her attention from art to another great human endeavor: death.
Read full book review >
MR. TIGER GOES WILD
---
"Hooray for Mr. Tiger and his wild ways! (Picture book. 3-7)"
---
There's a lot to go wild for in this picture-book celebration of individuality and self-expression.
Read full book review >
THE GREAT AMERICAN DUST BOWL
---
"From its enticing, dramatic cover to its brown endpapers to a comical Grant Wood–esque final image, this is a worthy contribution to the nonfiction shelves. (bibliography, source notes, photographs) (Graphic nonfiction. 10 & up)"
---
A graphic-novel account of the science and history that first created and then, theoretically, destroyed the terrifying Dust Bowl storms that raged in the United States during the "dirty thirties."
Read full book review >
Browne really cranks up the color intensity in this gorgeous, large-trim portrait gallery of primates.
Read full book review >