Best Fiction Books of 2013
(Page 5)
---
JEEVES AND THE WEDDING BELLS
---
"Faulks has risen to the challenge splendidly with this "homage" to Wodehouse. Jeeves and Wooster live again!"
---
Bertie Wooster and Jeeves, the feckless young master and his erudite gentleman's gentleman, creations of the great English humorist P.G. Wodehouse, are back, courtesy of his inspired fellow countryman and novelist Faulks (
A Possible Life
, 2012, etc.). This is the first Jeeves and Wooster novel in some 40 years.
Read full book review >
---
"An intelligently imagined Dickens prequel."
---
Frame (
The Lantern Bearers
, 2001, etc.) writes the story of Catherine Havisham, recluse of Satis House, in this prelude to Charles Dickens'
Great Expectations
.
Read full book review >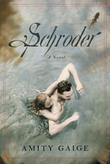 SCHRODER
---
"Smart, comic, unsettling, yet strangely of a piece—not unlike its disarming lead character."
---
A man's collapsed marriage and growing madness imperils his young daughter in this bracing third novel by Gaige (
The Folded World
, 2007, etc.).
Read full book review >
THE OCEAN AT THE END OF THE LANE
---
"Poignant and heartbreaking, eloquent and frightening, impeccably rendered, it's a fable that reminds us how our lives are shaped by childhood experiences, what we gain from them and the price we pay."
---
From one of the great masters of modern speculative fiction: Gaiman's first novel for adults since
Anansi Boys
(2005).
Read full book review >
THE CUCKOO'S CALLING
---
"Rowling delivers a set of characters every bit as durable as her Potter people and a story that, though no more complex than an Inspector Lewis episode, works well on every level."
---
Murderous muggles are up to no good, and it's up to a seemingly unlikely hero to set things right.
Read full book review >
THE SHADOW TRACER
---
"If you can accept the preposterous setup, the ruthlessly two-dimensional villains and the world's most uncomplaining 5-year-old, Gardiner (Ransom River, 2012, etc.) will keep you up half the night with nonstop action and nary a pause for breath."
---
Gardiner's latest stand-alone revisits the story of Thelma and Louise, with Thelma played by a professional skip tracer and Louise by a refugee from kindergarten.
Read full book review >
THE END OF THE POINT
---
"A lovely family portrait: elegiac yet contemporary, formal yet intimate."
---
This multigenerational story of a privileged family's vacations on Massachusetts' Buzzards Bay is as much about the place as the people.
Read full book review >
A DUKE NEVER YIELDS
---
"Bright, witty dialogue and superb characterization are the backbones of a fun, intricate historical storyline, and you may at turns laugh out loud and wipe your eyes at this couple's entertaining, tender path to their happily ever after."
---
When Abigail Harewood—sexually innocent yet effervescently determined to live life to the fullest—decides to take a lover, she sets her sights on notorious rake the Duke of Wallingford, who has just resolved on a year of chastity and sober living.
Read full book review >