Best Indie Books of 2013
(Page 5)
---
THE RULES OF DREAMING
---
"An exciting, original take on the literary mystery genre."
---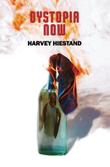 DYSTOPIA NOW
---
"A timely, and timeless, satirical novel."
---
Hiestand's debut sci-fi
novel is a disturbingly plausible vision of a future America in economic and political upheaval—and a satirical gem reminiscent of the work of Philip K. Dick.
Read full book review >
---
"Pithy writing, an unswerving plot and witty characters give this thriller a notable gleam."
---
In this debut thriller, two singles vacationing in paradise find love and sunken treasure, but the treasure belongs to a drug cartel that wants it back.
Read full book review >
TOCO

: TALES TOLD THROUGH THE EYES OF A SMALL BOY GROWING UP IN THE COUNTRYSIDE OF TRINIDAD WI IN THE 30'S & 40'S
---
"Readers will be happily lost in this lively, engrossing book about home and family."
---
Jack's debut collection
weaves together spirited vignettes recalling his boyhood in Trinidad.
Read full book review >
---
"A beautiful book of sad, funny and relatable verse and a comforting companion for anyone grieving the loss of a loved one."
---
---
"A detailed biography that offers valuable insight into the lives of three accomplished women."
---
Judd (
More Lasting Than Brass
, 2004) offers a real-life epistolary tale of a bizarre literary love triangle.
Read full book review >
---
"A wild, steamy story with erudite sex-as-art undertones. "
---
---
"An engaging trip around Major League Baseball's bases that may inspire readers to go on their own ballpark odysseys."
---
Debut author Kabakoff chronicles his quest to visit every major league ballpark in this cheerful travelogue.
Read full book review >