Infamous basketball coach Bob Knight's new book The Power of Negative Thinking encourages us not to throw chairs around the room (as the book's author is known for doing a time or two), but to become more pragmatic and realistic. Knight says his favorite word is "no," and points to speeches by Lincoln and Eisenhower, among others, that inspire by urging caution and honesty. Knight's new book is more useful than the classic The Power of Positive Thinking, if you ask us, but there's something about sports books that still inspire us. We share our favorite with you this week.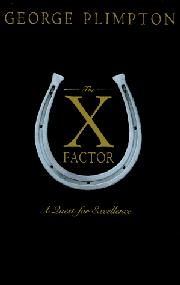 THE X FACTOR

: A QUEST FOR EXCELLENCE
---
"Win or lose, Plimpton writes with self-effacing humor and at least as much wit as wisdom; America's most famous professional dilettante doesn't demand to be taken too seriously."
---
The adroit author (Open Net, 1987, etc.), Paris Review editor, and amateur jock who plays with the pros suits up once again to pitch horseshoes with George Bush and, incidentally, to pursue the elusive factor that makes champions out of mortals.
Read full book review >