A trapper who confronts more adventure than he'd planned on in the American frontier of 1826 (Shannon Burke's Into the Savage Country); a young orphan who makes her way across the dangerous wastelands of America in the waning days of modern civilization (Find Me by Laura van den Berg); and a young woman who learns to navigate love, loss, school, and family in 1980s Philadelphia (Asali Solomon's Disgruntled): each of them are among the most recently published books you shouldn't miss out on.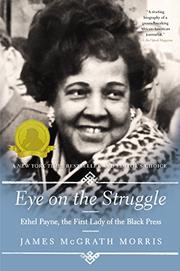 EYE ON THE STRUGGLE

: ETHEL PAYNE, THE FIRST LADY OF THE BLACK PRESS
---
"A deeply researched, skillfully written biography about a previously underappreciated individual."
---
Biographer Morris (Pulitzer: A Life in Politics, Print, and Power, 2010, etc.) resurrects the career of Ethel Payne (1911-1991), journalist, labor union and civil rights advocate, traveler on the African continent, journalism professor and pioneer in the American race wars.
Read full book review >