All the books on this week's list leave you feeling like you've been part of a complex, intriguing, memorable world, one that entirely envelops you and leaves you wanting more. There isn't any more, though, at least not yet: No sequels to these books exist. The next best thing, though, is talking about the book with a friend. So check out this week's books and recommend them to someone else!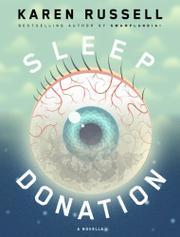 SLEEP DONATION

: A NOVELLA
---
"More of a detour than a natural progression for the author, whose fans will nevertheless find this as engaging as it is provocative."
---
One of America's finest fiction writers returns with an audaciously allegorical novella about sleep deprivation in an age of sensory overload.
Read full book review >