Love may be one of literature's oldest topics but if an agile, exciting writer takes it on, love can feel new. The books on this week's list grapple with modern love and the many ways we fall for one another nowadays (two of the books on this list are set in previous centuries but thoughtfully inject contemporary insights about love into old settings).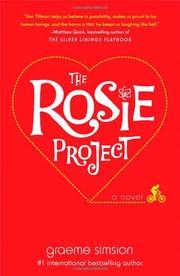 THE ROSIE PROJECT
---
"A sparkling, laugh-out-loud novel."
---
Polished debut fiction, from Australian author Simsion, about a brilliant but emotionally challenged geneticist who develops a questionnaire to screen potential mates but finds love instead. The book won the 2012 Victorian Premier's Literary Award for an unpublished manuscript.
Read full book review >