The fall is publishing's moment to roll out the year's big hits (or at least the books publishers hope will be big hits). The novels creating the biggest buzz right now are some of the most important of 2013, but they're also a pleasure to read. Some of the books on this week's list are more demanding than others, but each of them offers a story to sink yourself into.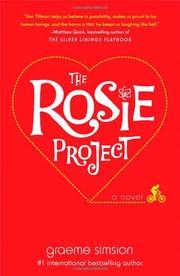 THE ROSIE PROJECT
---
"A sparkling, laugh-out-loud novel."
---
Polished debut fiction, from Australian author Simsion, about a brilliant but emotionally challenged geneticist who develops a questionnaire to screen potential mates but finds love instead. The book won the 2012 Victorian Premier's Literary Award for an unpublished manuscript.
Read full book review >