Zakiya Dalila Harris' Kirkus-starred 2021 novel, The Other Black Girl, is a lively tale of vicious office politics and back-stabbing that's sometimes reminiscent of the wild (and underrated) 1993 psychological thriller, The Temp. It's also a creepy horror story featuring a frightening conspiracy that calls to mind the Oscar-winning 2017 film Get Out (which Harris noted, in a New York Times interview, was one of her inspirations). Finally, it's a cutting critique of a publishing industry dominated by white people at all levels and a tense portrait of how constant microaggressions affect Black people within it. Debut author Harris executes all of this and more with a sure hand and plenty of biting humor; our reviewer called the novel "slyly brilliant" and "a nuanced page-turner, as sharp as it is fun." Now, a new, 10-episode series, which Harris co-wrote and co-executive-produced, premieres on Hulu on Sept. 13.
The story centers on 26-year-old Nella Rogers, the only Black editorial assistant at prestigious Manhattan-based publisher Wagner Books. She's worked diligently there for the last two years, hoping to be promoted to assistant editor by her white boss, Vera. Another editor has just hired a new Black editorial assistant, Hazel-May McCall; Nella bonds with her immediately and marvels at Hazel's confidence and easy rapport with everyone in the office. Believing she has Hazel's support, Nella decides to speak up about a troubling Black character— a single, pregnant, 19-year-old drug addict and mother of four—in a new manuscript from bestselling white author Colin Franklin. But Nella soon finds that while the leadership at Wagner pays lip service to the importance of diversity, they're uninterested in—or actively hostile toward—diverse voices that challenge them. Before long, Hazel takes actions that make Nella wonder about the new hire's motives. When Nella receives a cryptic, anonymous note telling her to "Leave Wagner Now," it leads her into an investigation that uncovers an insidious plot going back years.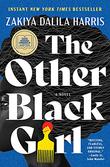 The new series sticks closely to the novel, in its broad strokes—except for the ending, which is markedly different. It's clear that the Hulu show, which was also executive-produced by Parks and Recreation actor Rashida Jones, wants to leave things open for a possible second season; the book, by stark contrast, ties things off with the finality of a grim horror movie. Nonetheless, the open ending offers many intriguing possibilities. And while far too many streaming adaptations feel padded and slow, that's not the case here; viewers will wish they could spend more time with these characters and learn more about their backstories.
The show's compulsive watchability is due, in large part, to its excellent cast. Sinclair Daniel, who recently appeared in the horror sequel Insidious: The Red Door, handles the complex role of Nella with impressive skill, effortlessly getting across her fierce ambition, self-consciousness, suspiciousness, and determination to learn the truth. Many viewers will know Ashleigh Murray from her role as musician Josie McCoy from the CW shows Riverdale and Katy Keene; as Hazel, she's riveting as a young woman whose drive to succeed leads her to frightening places. Scandal's Bellamy Young is wonderful as Vera, whose liberal good intentions crumble when faced with damage to her career; and Will & Grace's Eric McCormack, as the wealthy founder of Wagner Books, is a smug delight. The 4400's Brittany Adebumola, as Nella's protective and bluntly honest friend Malaika is hilarious throughout, and Siren's Garcelle Beauvais, as Nella's literary idol Diana Gordon, is quite good in a complicated and layered role. Here's hoping that they all return to Wagner's offices for a second season.
David Rapp is the senior Indie editor.