The film adaptation of Michelle Zauner's bestselling memoir, Crying in H Mart, has found its director, People magazine reports.
Will Sharpe, the English actor known for his role on Season Two of The White Lotus, will direct the movie. Sharpe has previously helmed films including The Electrical Life of Louis Wain and television series like Flowers.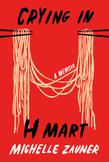 Indie rocker Zauner's memoir, published in 2021 by Knopf, tells the story of her relationship with her Korean mother, who died of cancer in 2014, and her quest to reconnect with her heritage by cooking Korean dishes. The book was a bestseller and a hit with critics; a Kirkus reviewer called it "a tender, well-rendered, heart-wrenching account of the way food ties us to those who have passed."
"There were lots of things that resonated with me as somebody who is half-Japanese, half-British, spent my childhood in Tokyo," Sharpe told People. "Some of the descriptions of being jet-lagged in your family's kitchen felt very familiar to me."
Zauner is writing the screenplay for the film, and her band Japanese Breakfast will contribute to its soundtrack. The musician and author praised Sharpe for his "sensitivity as a director and an actor," saying his upbringing makes him "the perfect director for this film."
Michael Schaub, a journalist and regular contributor to NPR, lives near Austin, Texas.