---
"A sci-fi novel that soars along with a teenage heroine whose imperfections help make her believable and endearing."
–
Kirkus Reviews
---
AWARDS, PRESS & INTERESTS
Kirkus Star: SAVING MARS
Named to Kirkus Reviews' Best Books of 2012: SAVING MARS
Three Weeks on Amazon Teen Bestseller List (Top 100), 2012: Rippler
Hometown
Eugene, Oregon
Favorite author
Jane Austen
Favorite book
Persuasion
Day job
Author
Favorite line from a book
"Who will believe thee, Isabel?" (Okay, it's from a play. Whatevs.)
Favorite word
This week? Um...howzabout "gravitas."
Unexpected skill or talent
I make exceptional pie. Fast. https://www.youtube.com/watch?v=OCUtoWP3T5k
Passion in life
Creating unforgettable characters facing extraordinary circumstances
---
BOOKS REVIEWED BY KIRKUS: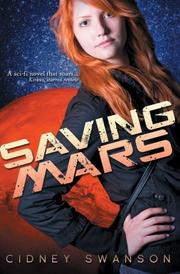 SAVING MARS
A 17-year-old pilot with a history of crashing her craft holds a planet's fate in her hands when a human settlement on Mars runs low on food.
Flight-obsessed Jessamyn Jaarda faces the biggest mission of her life in the fourth YA sci-fi novel from Swanson (Unfurl, 2012, etc.). Fired from pilot training for crashing one craft and praised for doing the same to another, Jess inspires unpredictable reactions in people. Maybe that's because Jess lives, as she flies, by pure instinct, and no one knows whether that trait will enable her to save her planet when, because of potential starvation for a human settlement on Mars, she must fly to Earth on a food raid. Along with her brother, however, the red-haired teenager has the courage to attempt the mission and stick with it when it goes terribly wrong. Swanson paces this story beautifully, weaving exposition tightly into the plot as disaster interrupts everyday routines. Despite the strangeness of the Martian environment, the novel quickly establishes the humanity of Jess and other characters, as when Jess tries and fails to help her brother resist a bout of claustrophobia or when she first locks eyes with her planet's only dog and feels something sweep through her: "A something that reminded her of taking her craft toward breaking day or of watching Phobos as the swift moon zipped across the night sky. The dog was...wondrous." At first, Jess sees everything through the lens of her obsession with flight, but she becomes far too multifaceted, distractible and passionate to be mistaken for an archetype. Watching her grow and struggle to survive makes this book hard to put down.
A sci-fi novel that soars along with a teenage heroine whose imperfections help make her believable and endearing.
ADDITIONAL WORKS AVAILABLE:
CHAMELEON
YA/Teen
Sixteen-year-old Samantha Ruiz has a lot on her mind. The crush who kissed her but changed his mind. The BFF who thinks Sam is in an abusive relationship. The Nazi-geneticist who wanted Sam dead but now wants her ALIVE. All this, and she's still dealing with a tendency to disappear into thin air. When Sam learns of her nemesis Helmann's Nazi-like plan to re-establish a Thousand-Year Reign, she's determined to fight him. Along with Will and Mickie, Sam flees to France to meet Sir Walter--their best hope for stopping Helmann's brave new world. Unfortunately, Sam isn't any safer in France. Someone invisible is following her, and now Sam must figure out how to hide from an enemy she can't even see.
Published:
Sept. 7, 2011
ISBN:
9780983562139
View on Amazon
---
DEFYING MARS
YA/Teen
Jessamyn has escaped Earth with food for her starving world, but her troubles are just beginning. She must rebuild her life without Pavel, the Terran boy whose kiss haunts her. Her success is further tainted by the loss of her beloved brother. Ethan disabled the deadly lasers orbiting Mars, but this has created a fervor to re-open trade with Earth which Jess knows would be disastrous. Add into the mix a secret which could launch an interplanetary war, and Jess finds herself at the center of an intrigue where, in order to save the world she loves, she must defy it.
Published:
Dec. 15, 2012
ISBN:
9781939543004
View on Amazon
---
LOSING MARS
YA/Teen
Jessamyn has survived a terrifying crash but lost her ship, joining Pavel, Ethan, and others in the dissenter settlement of Yucca. Now, Chancellor Lucca Brezhnaya believes Jess is out to destroy the Terran government, and Lucca will stop at nothing to find Jess. The trail of tellurium left in the Mars Raiders' wake makes them vulnerable to discovery, and when Lucca places a spy in their midst, secrets are spilled that could mean the loss of everything--and everyone--Jess holds dear.
Published:
April 7, 2013
ISBN:
9781939543028
View on Amazon
---
MARS BURNING
YA/Teen
Chancellor Lucca believes Jess and Pavel are dead, and now she's deadly determined to make certain Mars never interferes with her or her world again. Meanwhile on Mars, Mei Lo pleads with the Raiders to finish their second mission: disabling the Terran satellites. But the satellites aren't all that threaten the red planet. Cavanaugh Kipling makes plans to contact Lucca's government--without permission. Now Jessamyn must thwart villains on two worlds before it's too late to prevent the destruction of Mars.
Published:
Aug. 4, 2013
ISBN:
9781939543073
View on Amazon
---
RIPPLER
YA/Teen
When Samantha Ruiz turns invisible in front of team mates on a rafting trip, she knows something's wrong with her. According to her knowledgeable friend Will, she's got a rare genetic disorder. Fearing a lifetime sentence as a lab-rat, Sam wants to keep her ability secret. But she also wants to know if there's a connection between dark Nazi experiments on others like her and her own mother's death eight years earlier. At the same time that Sam is sleuthing, she's falling hard for Will. And soon, she'll have to choose between keeping her secrets hidden and keeping Will safe.
Published:
May 27, 2011
ISBN:
9780983562177
View on Amazon
---
UNFURL
YA/Teen
Against all expectations, Samantha Ruiz has survived attacks by two of Helmann's deadliest assassins. She's alive, but she's far from safe. Helmann is planning a second Holocaust and wants Sam to play a starring role. Will, meanwhile, separated from Sam by an ocean, seeks a way to prevent Helmann's apocalypse. Along with Sir Walter and Mickie, Will plays a deadly game sneaking into Geneses' facilities, discovering unsettling clues as to Helmann's plans. The clock ticks down as Will and Sam discover just how much they must be willing to sacrifice to stop Helmann. UNFURL, the powerful conclusion to The Ripple Series, will leave fans breathless.
Published:
Dec. 25, 2012
ISBN:
9780983562146
View on Amazon
---