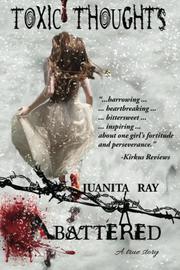 BOOK REVIEW
BATTERED
BY Juanita Ray • POSTED ON Oct. 15, 2013
Ray's debut novel presents the story of a young woman suffering years of abuse at the hands of a new woman in her father's life.
Jacynta Roth, who lost her mother to cancer just three years ago, has a unique perspective on her father's new live-in girlfriend Irma: She once saw Irma violently abuse her own two sons. But her father, Ned, doesn't believe it. Soon, Irma's desire to control Ned's six children turns into physical torment—with the bulk of the abuse directed toward the youngest, Jacynta. As the years pass, her other siblings leave or mysteriously disappear; for example, Ned's claim that Jacynta's older sister, Michelle, is staying with their grandmother is clearly a lie. Jacynta, however, continues to endure Irma's torture, which includes kicks, hair-pulling and locking her outside in the freezing winter snow. Jacynta's only chance of escape, it seems, is to run away—but because few people believe that she's being abused, she fears that she'll be sent right back. Ray's novel is a harrowing portrayal of child abuse made even more unsettling by the fact that it's a true story (with names changed). Readers will likely find it difficult to sympathize with any of the secondary characters: Ned is aware of Irma's mistreatment but does very little to stop it, and others in a position to help the girl, such as social worker Claudette, seem incapable of doing so. There are instances of optimism, however, that offset the book's bleak tone: Jacynta's brother Adam supports his baby sister and calms her when she's angry or upset; and, in one of the story's most heartbreaking moments, a friend's father treats Jacynta so well that she cries with happiness. Ray presents the story in present tense, so there's no retrospection at the end to adequately wrap everything up; in fact, she leaves more than one of the siblings' fates vague. But the bittersweet conclusion, which leaves Jacynta facing an unknown future, promises more stories about the young girl's life.
An inspiring, if often despondent, novel about one girl's fortitude and perseverance.
Review Posted Online: July 23, 2014
ADDITIONAL WORKS AVAILABLE
BroomBat and One-Eyed Hat
BroomBat, the witch, is flying above the city when One-Eyed Hat sees a tremendous sight. "Look down, look down," yelled One-Eyed Hat. "See that house with the giant bat?" After BroomBat lands near the house, to get a closer look, she stumbles upon a little orphan boy lying in the ditch and decides to take him home. One-Eyed Hat is not happy about that. Can One-Eyed Hat learn to like the boy?
Published: Oct. 26, 2014
ISBN: 978-1936954070
Charmed
Finally Jacynta Roth has someone she can admire and trust. She is ecstatic to have her brothers approval of her new found Prince Charming. She breathes a sigh of relief knowing she has finally committed to someone even her brother respects and admires. Life is great. They are going to get married and live happily ever after. They buy a house and fly around the world with free first class passes. He brings her home to meet Mom and Pop. His family are humble but successful farmers that grow corn and tomatoes for a large international food condiment franchise brand. Life is a fairy tale ... until she opens a letter, a letter from his attorney. Her gentle giant ... her sweet endearing man ... abruptly disappears as he awakens with a might roar, "How dare you trespass into my secret life."
Crashing Life
How many times does a girl have to die before she gets it right? My name is Claire and I'm seventeen. So far I've died eleven times and I'm coming down to die again. I really don't see why I need this lesson but it's my last. Between lives I live in a place called Geutron, which is often referred to as a black hole. You call us black matter but that's okay because we have a name for you guys. We call you breathers. I'll be hanging around with you for awhile because I'm coming down for my twelfth and final life. I can't wait to get it over with. Why? Because I'm dying to go through the thirteenth door.
Published: Oct. 11, 2015
ISBN: 978-1936954131
Crowley The Christmas Cat
BroomBat and One-Eyed Hat sneak into Santaville with plans to steal a cat for magic spells, but upon discovering Santa is sick and bedridden decide to use the cat to save Christmas.
Published: Nov. 15, 2014
ISBN: 978-1936954094
Intoxicated
After seven years of marriage, twenty-three year old recently divorced Jacynta Roth is in for the struggle of her life. After building a custom designed two story shop with living quarters on the top floor, a brief hospital stay is jeopardizing her entire future. Bad faith insurance and a reckless fiancé with a passion for alcohol are driving her to the brink of bankruptcy. She stands to lose everything that she's worked for and vows to fight to the death to keep it all, until her son suddenly disappears.
Published: Oct. 19, 2015
ISBN: 978-1936954056
Moodyssey
Juanita Ray suffered horrific abuse for eight preteen years. At age fourteen, the second time she ran away, her fate was decided in a court hearing, where she became a ward of the court. At age fifteen she married her stalker, one of many divorces. The daunting task of learning lessons the hard way was a neverending journey for most of her whirlwind life. More times than not, she found herself in one corner after another clawing her way out, only to find herself pinned in yet another one. At times her only form of communication was through unshared poetry. Over half of the poems in this collection were written while she was in her teens, others just days prior to publication. Juanita Ray is the author of Toxic Thoughts, a true story series based on her unbelievable life.
Published: Nov. 29, 2014
ISBN: 978-1936954117
Stalked
Jacynta aged fifteen is convinced by her zany foster home roommate to date her stalker. After the government tries to charge him with statutory rape, she fights back, quits school, and at age fifteen becomes a child bride as a teacher's wife. The fact that that she's anglican and he's catholic makes them no difference - to them. Together the embark on a heart rendering journey of adversity and resilience, surrounded by death and desolation in an isolated town divided by a religious borders and judgmental community leaders.
Published: Aug. 8, 2014
ISBN: 978-1936954032
Zorp Zoodle Son of Zeus
Zorp Zoodle was raised by a wolf and that was the way things were supposed to be ... or so he thought. He never had the chance to go to a normal school or make friends. The dark deep forest had been his home since the day he was born. Until one night ... just before his birthday, when everything changed .
Published: Dec. 20, 2014
ISBN: 978-1936954100