Panayotis had a magical childhood growing up in a small seaside town in Cyprus. After two years as an army conscript (at a time when the island suffered first a military coup and then an invasion), he traveled to Britain where he studied law at Oxford and qualified to practice at the Bar. Having then decided that he didn't want to be a lawyer, he also graduated art school, and for many happy years he worked as a painter and sculptor, until a spell of artist's block led to a very short course in creative writing...

His time now exclusively devoted to writing, The Dead of August was his first novel, a contemporary satire set in London, where he lives. His own experiences while working in the city as an artist, together with the colorful relationships of many of his friends, provided Panayotis with a wealth of material to draw on. Surprisingly all his friends are still talking to him, and none of them are planning to sue him. As well as receiving a starred Kirkus review, The Dead of August was named to Kirkus Reviews' "Best Books of 2015"...

Also set in modern-day London, Bowl of Fruit (1907) tells the story of a man with a fantastical talent, and of his epic, twenty-four hour journey with a beautiful ghost-writer who knows more about his past than he does. Calling it "a magically original story" and "an incredible read", IndieReader named Bowl of Fruit (1907) one of its "Best Indie Books of 2015"...

"Relieved, complicated, and strengthened by its trenchant observations of horrible people, along with black humor..." (Kirkus Reviews), POLK, HARPER & WHO is another contemporary story of complicated friendships and family relationships, and ultimately of the triumph of imperfect London love within imperfect London lives...

London 1969. While men are walking on the moon, a series of dramatic events threaten to have lasting repercussions for Jane and the people she loves... In another starred review, and naming it one of their "Indie Best Books of the Month" for June 2018, and then one of their "Best Books of 2018", Kirkus Reviews have acclaimed The Madness of Grief as a "richly complicated, and deeply engaging coming-of-age tale." Lightened by a touch of Panayotis' familiar dark humor, "the story moves rapidly, contains a genuine mystery, and is thoroughly entertaining." Casey Dorman - Lost Coast Review...

Psychological, magical, mad, Panayotis' fifth book is another London story of a journey on a long winding road and beyond. Describing the writing as "intentionally disorienting and unnervingly addictive", Kirkus Reviews judged Finger of an Angel an "exceptional novel"...

With the dreadful 2020 drawing to a close, Panayotis finished his sixth novel, hoping its satirical foretelling of the future will not come to pass... London 2030. When a postman knocks on his door, the unsettling news he delivers will cause Mr Rubens to reflect on the unforgotten sadnesses and joys of the past, while he begins to prepare for the surprises of the future. The present is a Kafkaesque nightmare worse than Orwell's 1984, "a hideous world where people don't need to be watched by Big Brother." A dystopian political satire, The Coldness of Objects is also a story about different kinds of love. In another starred review, Kirkus Reviews have described it as "a thoroughly gripping novel" and an "intriguing, timely, and terrifying portent of life after Covid-19."...

For his seventh novel, released in February 2023, Panayotis has returned to a lighter mood, a much-needed shift after the events of recent years. A satirical take on the multiplying ways in which art and the media, and even we ourselves in our everyday lives, are constantly blurring the line between fiction and fact, Reimagining Ben is also a tongue-in-cheek celebration of the trials and tribulations, triumphs and occasional absurdities, of our modern-day imperfect London lives. In what Kirkus Reviews have described as a "lightly absurdist comedy", "a book of big, farcically dramatic moments" and a "humorous and entertaining character study of two brothers besieged by the preposterous", 33-year-old Jay embarks on a short, sharp journey of belated self-discovery, while constantly being goaded and taunted by his gay twin brother George.

For the moment at least, Panayotis has no plans (not to mention the energy or any trace of talent) to embark on a fourth career... Aside from reading and writing, his favorite pastime is going to the movies, and ever since his friend/therapist/barber recommended The Sopranos, he has also discovered good TV. He travels to Cyprus often, to visit family and be near the sea...

If anyone would like to get in touch with him, there is a contact email address for Panayotis on his website.
"In this lightly absurdist comedy, fraternal twin brothers find their lives upended by a narcissistic writer and exacerbated by their unresolved rivalry... A humorous and entertaining character study of two brothers besieged by the preposterous."
– Kirkus Reviews
FICTION & LITERATURE
REIMAGINING BEN
BY Panayotis Cacoyannis • POSTED ON Feb. 13, 2023
In this lightly absurdist comedy, fraternal twin brothers find their lives upended by a narcissistic writer and exacerbated by their unresolved rivalry.
Jay and George Raven are a curious and contentious pair of siblings living in North London. The foulmouthed George is a celebrity biographer who flamboyantly reinvents his subjects' lives for his readers. All he says and does is equal parts clever and crushing, and he rarely lets up on his brother for being born mere minutes before he was. In contrast, Jay is a librarian and serial apologizer, envious of George's good looks and his confidence as a gay man. These are the reasons he's never come out himself, and in fact Jay denies he's gay despite his brother's insistence that he is. Still, Jay is excited about "the event," a meet-up with a man, supposedly a stranger, whom he will join naked in bed for just a conversation, an odd yet enticing interview George has set up. But the night before the event, George's beautiful friend Bendy Andy, who spends time dressing as a stunning Marilyn Monroe with a Meryl Streep nose, introduces the siblings to a popular writer named Ben Eversham. Ben claims to be a fan of George's but greets him with contempt, exposing himself as a compulsive liar. Ben quickly entangles Jay in a night of coincidences and mysteries involving the proprietors of a local cafe, escorts, organized crime, and two name-dropping police officers. The event is equally surprising for Jay, as the man in the bed turns out to be his brother's best friend, Tom, "George's only love." But Tom is also a lost love of Jay's—a situation George paradoxically orchestrates but also seethes with contempt over. Early on, George notes that "nonsense is the meaning of life," a welcoming nod to the good time that awaits readers.
Cacoyannis' novel recalls Tom Stoppard's play Rosencrantz and Guildenstern Are Dead in that beyond one uproarious moment when Jay and Andy have to stop George from hanging Ben with a makeshift noose, much of the action takes place offstage. The characters' interpersonal conflicts and the fallout of Ben's unscrupulous conduct are dealt with in the book's consuming, sometimes volatile dialogue. But it is not just what the characters say that charms in each scene. Even minor acts, such as ordering drinks at a restaurant, reveal much about the players through their tics, pauses, and silences with an impressive thrift. The story employs a subtle absurdism in its comedy, crafting a world that could almost be real (most of these characters are writers, models, and artists, after all) save for the overwhelming volume of fun coincidences that even later disclosures cannot completely explain. One revelation encompasses a drunken automobile accident, a rare tonal misstep that goes largely unresolved. The tragedy seems far too grave because it directly involves George as opposed to the often comedic, criminal debauchery of Ben. Yet in a book of big, farcically dramatic moments, such as the fighting over the noose, Ben's projectile vomiting, and Jay's fainting from the heat like a Victorian protagonist, this level of seriousness is largely left by the wayside for more amusing fumblings by the brothers and their lovers.
A humorous and entertaining character study of two brothers besieged by the preposterous.
Review Posted Online: Jan. 16, 2023
FICTION & LITERATURE
THE COLDNESS OF OBJECTS
BY Panayotis Cacoyannis • POSTED ON Jan. 1, 2021
A gay man questions Britain's repressive new political regime in this satirical, speculative novel by Cacoyannis, author of Finger of an Angel(2019).
The year is 2030, and 70-year-old Englishman Anthony Pablo Rubens is about to receive an unexpected special delivery that could change the course of his life. It's a summons informing him that he's been selected for "Museum Service"—and he doesn't know exactly what that entails. It turns out to be a scheme introduced by the Government Party, which came to power in the United Kingdom with a landslide victory in 2024 in the wake of a viral pandemic that "exhausted the world." The Party offered simple and deadly solutions, inciting racial hatred and promising the abolition of a trial by jury. Museum Service, it's revealed, involves uprooting Anthony's life—possessions and all—and exhibiting him in a cubicle in the People's Museum, where party members can observe him going about a daily routine. The narrative flips back half a century to show Anthony as a young man navigating London's gay scene; one night he has a chance encounter with Joe Devin, who will later become a Government Party minister. The novel also describes Anthony's loving relationship with his ailing partner, Malcolm, and his closeness to his sister Eunice, whose political leanings echo those of their grandfather, who fought against Franco during the Spanish Civil War. Things become tense when Anthony's inquisitiveness results in his being labeled a "pedant" by the government and when he learns that Eunice was similarly summoned shortly before her death.
Immediate comparison will be made with the work of George Orwell, whose work is specifically referenced: "Mr Rubens suddenly felt terribly alone, living unloved and unnoticed in a nightmare worse than 1984." However, this is by no means an ersatz rewrite of a literary classic. Cacoyannis tells a story that feels both fresh and alarming in how it identifies and amplifies concerns of our time, as when it shows life becoming anodyne as a consequence of surveillance: "bioelectric cars whizzed past with hardly a sound, at set speeds that could not be exceeded. Cyclists only cycled in the designated lanes. Smart phones weren't so smart any more, but threatened to be smart enough to spy." For the author, love is the antidote to a complicit society rendered indifferent to authoritarian rule. Cacoyannis' elegant and tenderly observant prose captures how individual lives interconnect: "Anthony's 'gift' seemed to always cast life in a shadow, Malcolm's was to inundate its mysteries with light." In previous works, the author has painstakingly created psychologically complex casts of characters, but he doesn't apply the same level of detail to the minor players here. This is less important, however, because in this novel, the primary focus is excavating the horrors of a society rather than the internal worlds of diverse individuals. Overall, Cacoyannis has written a thoroughly gripping novel, using the rhetoric of a real-life pandemic to fashion a chilling vision of an abnormal "new normal" to come.
An intriguing, timely, and terrifying portent of life after Covid-19.
Review Posted Online: Nov. 15, 2020
Kirkus Reviews Issue: Jan. 1, 2021
FICTION & LITERATURE
THE MADNESS OF GRIEF
BY Panayotis Cacoyannis • POSTED ON April 1, 2018
In this literary novel set in England, a teenager learns startling revelations about people close to her.
In the sultry London of July 1969, Jane Hareman is 16 years old, making her first steps into maturity as humanity is taking its first steps on the moon. She has a comfortable relationship with her best friend, Karl Schmidt-Smith, a talented pianist and composer a year older than Jane. But then he says the words that turn her "whole world upside down: 'Let's go upstairs to my room.' " Jane, an intelligent girl who enjoys reading Kafka and philosophy, isn't sure how she feels about that. She also has other things on her mind, such as the nearly 10-year anniversary of her mother's death. Jane's household consists of her father, George, once a magician known as "Mr. Magikoo," and his girlfriend, Mia-Mia. A frequent visitor is George's sister, Ada, a second mother to Jane. After the accidental onstage electrocution of his wife, for which neither Jane nor Ada has ever forgiven him, George eventually retired from performing to run his magic shop—but not before roping young Jane into appearing as "Little Magik Matchstick" in a terrifying theatrical illusion. Ada put a stop to this when Jane was 8, but the teen adds the experience to the list of things she can't forgive. Returning home after watching the moonwalk on TV with Karl and his mother (who thinks it's a hoax), Jane finds her world upended again when Mia-Mia reveals several important truths about herself, George, and Ada. Enlightened, Jane can now forgive her father, telling him: "I understand now that everything, even Little Magik Matchstick, was part of the madness of grief." But Jane's rapprochement and her understanding of the truth are soon upended yet again through betrayal and tragedy. Helped somewhat by the humanity of a few people in her world, Jane must find strength in turmoil.   As in his previous novels, Cacoyannis (Polk, Harper & Who, 2017, etc.) again shows his perceptive understanding of the many layered elements that make up the psyche. Jane's view of Karl, for example, undergoes seismic shifts after he attempts rape. Is he unforgivable? Is it his mother's fault? Does his sublime piano composition in her honor excuse what he tried to do? As Jane yields "to what I felt like doing today, already one absolute certainty had sweepingly overridden another." The uses, attractions, and dangers of lies, fictions, magic, and illusion run through the story in thought-provoking ways ("One of Mr. Magikoo's best-known tricks involved pulling a rabbit out of two different hats…by sleight of hand the mutilation of the rabbit was concealed"). Telling the truth can have dire consequences; sometimes lying is necessary to protect the innocent; magic's enthrallment depends on the audience's feelings of horror. Cacoyannis' characters, even minor ones, are equally complex and multifaceted, with histories that he brings out skillfully. Jane in particular is an appealing young person with her honesty, cleverness, openness, and desire to do the right thing. Flashes of absurdist dark humor provide a welcome note in the book's dramatic events.
A well-written, richly complicated, and deeply engaging coming-of-age tale.
Review Posted Online: March 27, 2018
Kirkus Reviews Issue: May 15, 2018
FICTION & LITERATURE
Bowl of Fruit (1907)
BY Panayotis Cacoyannis • POSTED ON Sept. 11, 2015
In Cacoyannis' (The Dead of August, 2013) sophomore effort, a London man meets with a mysterious ghostwriter, taking him deep into his past.
Leon Cheam has made a lot of money in his lifetime. He currently lives in a large, semidetached home in London. His talent is painting Picassos—not reproductions but paintings so masterful they could be worthy of being called original unknown works by Picasso himself. He's also a fan of Kafka's The Metamorphosis, so much so that he's having some builders construct a replica of Gregor Samsa's bedroom right in his own home. It's a quirk, he admits, not craziness—"I am neither a lunatic nor a fanatic. My bedroom is an affectation, not a delusion." He just wants to see what it will feel like to be abnormal. In the midst of this, a ghostwriter named Anna Tor contacts Leon. She knows about the Picassos, but she also seems to know about Leon's past. She suggests she could write a book about him, if he's interested, and out of curiosity he decides to meet her. Leon is intrigued: Anna knows his real name, she has eyebrows like his, and she touches on topics from the past that Leon has yet to resolve. As the two stroll around North London—a marathon talk that lasts upward of 24 hours—Anna and Leon reveal things to each other about their pasts that will take them all the way back to the beginning of the Chilean dictatorship in 1973. Cacoyannis' talent for connecting art and literature with the personal lives of his characters is on full display. Leon's artistic talent—not to mention the commerce of it all—is nearly a character unto itself, and recollections of difficult events are adeptly woven into the larger narrative. Anna and Leon are unpretentious, smart compatriots who stomp on familiar ground in London, and their growing connection, as well as the labyrinthine tale that emerges, is as unsettling as it is satisfying. The novel may not be as explosive as his first, but it's nevertheless a unique tale about secrets and the quixotic nature of artistry.
A lively, multilayered novel that connects two uncommon souls to a shared past.
Review Posted Online: Sept. 24, 2015
Kirkus Reviews Issue: Oct. 15, 2015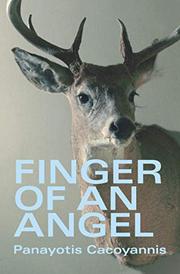 FICTION & LITERATURE
FINGER OF AN ANGEL
BY Panayotis Cacoyannis • POSTED ON April 5, 2019
A grieving mother embarks on a mind-expanding journey in this novel.
Lily, or "Lily the Pink," as she is known at "naked yoga," is a 60-something woman who is a member of the "strictly-by-invitation-only" website "come-to-woody.com." The site allows "perfectly respectable" professionals to meet for anonymous sexual encounters in a "secret little wood somewhere north of Hampstead Heath," London. She has a strained relationship with Gemma, her 29-year-old daughter, who "doesn't approve of" her lifestyle. And yet elements of Lily's hedonism are linked to her first child, Tommy, who died at 8 after slipping out of the hands of his irritated father, Frank, at bathtime and suffering a fatal fall. During one of her ventures to Hampstead Heath, the air-conditioning on Lily's classic Mercedes fails. In the heat, she begins to experience strange phenomena. She sees her dead son in the eyes of a fly she identifies as the angel Ithuriel. She later encounters two men, one of whom she instantly recognizes as "the devil incarnate." All the while, Lily consults with her alter ego, Bella, nicknamed the "Unexploded Bomb." As in his previous novels, Cacoyannis (The Madness of Grief, 2018, etc.) deftly builds complex psychological portraits of his characters. Here, his fiction employs magic realism to both blur and sharpen Lily's shifting mindscape. As she sits in the suffocating heat of the car, her altering vision is at first understandable: "Trickles of sweat had already found their way into her eyes, but she could see. The slight blurriness—the effect was of an old-fashioned photograph fuzzy from the grain of excessive enlargement." Aberrations in her vision later become the "colourful brushstrokes" of a migraine aura, but she also inexplicably sees, behind a fly's "ruby domes," unmistakable eyes far more piercing than hers, belonging to her dead son. The author delights in leading readers to the unsteady territory between the possible and the impossible. His writing is intentionally disorienting and unnervingly addictive as readers grapple to make sense of two or more separate realities sewn seamlessly together. Cacoyannis is known for his introspective protagonists, but in this exceptional novel he delves even deeper, excavating the darkest corners of the psyche.
An erudite, richly layered, and unsettling psychological tale.
Review Posted Online: April 9, 2019
Kirkus Reviews Issue: May 15, 2019
FICTION & LITERATURE
The Dead of August
BY Panayotis Cacoyannis • POSTED ON Dec. 28, 2013
A London obituary writer is called to the home of a reclusive artist with a mysterious agenda in Cacoyannis' debut novel.
James Linthwaite works for the Herald, a London tabloid that's gaining popularity because of his innovative, witty obituaries. He's become semifamous around town, but his notoriety is nothing compared with his wife June's. She's the author of "posh porn" books, including a bestseller called Susan's Phallacy that's flying off the shelves. Although James and June consider her writing to be a radical feminist take on erotic fiction, everyone else simply considers it fairly well-written smut. The Linthwaites have a teenage son named Josh who's just beginning to have some sexual adventures of his own. Amid success at work and at home, James nonetheless finds his life to be inwardly and outwardly in turmoil, as suggestions of affairs, fears about his marriage's longevity, and a few alcohol-poisoned nights lead him down some seriously confused paths. Then James' editor asks him to go on a particularly odd assignment to meet an artist in the south of England. A recluse named Max has invited three writers to his home, each instructed to spend time with him and then write his 900-word obituary. The purpose of the exercise will be revealed later, during an art event, and its consequences will affect James and his career in numerous ways. Cacoyannis writes in a breezy yet erudite way, with eloquent language and insight sharing space with truly funny running jokes. James' life is at once complicated and complete, imperfect and scary, but somehow just as it should be. The depiction of James and June's marriage is particularly impressive; the author writes with such passion about insecurities, lust, violence, and love that the characters' faults and flaws only make them more vivid. The Linthwaites are intellectual but not always politically correct, and they love Pedro Almodóvar films and good wine with venison steaks. They live in a London that's suitably fast-paced and cutting-edge, and Cacoyannis has a firm yet humorous grasp of the vernacular and culture of personal and professional worlds ranging from Fleet Street to Soho and beyond. James has a kind of fame that's fairly risky: one daring obituary that goes too far could make the industry and the public turn their backs on him. Indeed, all of the characters take risks, and it's to the author's credit that this madcap, smart story has an introspective protagonist whose dedication to his rebellious family is so well-imagined.
A sophisticated, comic novel that brilliantly captures the triumph and folly of art, media, and publishing.
Review Posted Online: Aug. 4, 2015
Kirkus Reviews Issue: Sept. 1, 2015
FICTION & LITERATURE
POLK, HARPER & WHO
BY Panayotis Cacoyannis • POSTED ON Jan. 20, 2017
In this literary novel, family secrets, friendship, and the resilience of love play out in a dinner party between two couples.
As this story opens in London, Eva Polk (née Harper) reacts with glee to news of a relative's death, which exposes a big secret she's kept from her husband of 10 years, Adam. The reasons are explained in the following chapters tracing Eva's childhood, her father's remarriage, her friendship with Karen Armstrong, her stellar success in the advertising business, and meeting and marrying Adam, who becomes a successful artist. Shared tastes and mutual passion overcome their differing backgrounds. Eva is white, Adam is of mixed race and adopted; Adam's father is a plumber, while Eva's was senior partner in a top-tier accountancy firm. Marriage doesn't dull their feelings: "Every day they told each other that they loved each other every day more." After 10 years, they start thinking about children, but Eva's infertility makes them decide to adopt. At a dinner party with Karen and her husband, Jean-Claude, several truths surface, including an important secret Eva has been keeping. But Adam doesn't focus on the injury to him; rather, he sees the secret as something she "had borne heavily…from now on Adam wanted her to know that he was bearing it with her—with, not against her," a sentence that beautifully encapsulates what love is. As in his previous novels, Cacoyannis (Bowl of Fruit (1907), 2015, etc.) uses his familiarity with London, its various subcultures, and the art world to good effect. The themes of adoption and stepparents, as well as the mixed-race characters, reflect the way people live now. At times, and despite Eva's secrets, the couple can seem too good and too fortunate to be true; apart from a brief episode of Eva's "melancholia," they have amazing sex every day. Nevertheless, the author draws forth their layered humanity. The book's seriousness is relieved, complicated, and strengthened by its trenchant observations of horrible people, along with black humor involving Eva's dead relative, a rare 1970s biscuit tin, and the wooden sculpture of a bleeding vagina.
 A thoughtful, observant, and often humorous tale about real connections.
Review Posted Online: Jan. 20, 2017