I'm Tam. I was born in Montreal, Quebec way too many years ago. I've been living in the suburbs of Toronto since the early '80s, and I can't imagine living anywhere else.

I am a classically trained musician and English Lit enthusiast. I began reading and playing piano probably before I could even walk! I've been a creative and artistic person for as long as I can remember.

My first passion in life was playing music; but, aside from spending several years teaching band to inner city school kids in Toronto, I found myself still looking for an outlet for my creativity.

Since then, spanning the next two decades, I have been teaching English lit to high school seniors. I absolutely LOVE what I do. Psychological deconstruction of lit, grammar, poetry, fairy tales . . . I love teaching it all. And I love to study it myself. Lifelong learner! But still, I wanted to do something more.

After having a few non-fiction works published nationally in various media, I finally realized my true goal: writing fiction. I'm a born reader, but I also have some amazing stories to tell. That's why I was excited to begin this venture, Jagged Edge Publishing, with Cindy. Together, we write some awesome stories.

I'm mostly the technical person in our partnership, focusing on structure, semantics, and style. But I draw on many years of experience to be able to write effectively and honestly about the human condition and the myriad flaws inherent to it.

Since being diagnosed with mental illness many years ago, I now find a much more pure and open line of understanding with my own psyche. I've been through it. Still going through it. But I'll tell you, it sure gives some really great character ideas! Writing is an incredible outlet for speaking honestly to one's self and realizing -- but still accepting -- just how screwed up we all really are.

I'm obsessed with the theories of Northrop Frye, Joseph Campbell, and other mythopoeic scholars who postulate that all literature the world over shares connections through their cyclical stories of heroes and archetypes. I will never get tired of seeing the similarities in the stories of Luke Skywalker, Harry Potter, 'Neo' Anderson, and even Jesus! And I'm a devout atheist, for pity's sake!

But it's to Shakespeare's Hamlet and Benedict Cumberbatch's Sherlock Holmes from which I draw the most inspiration. I find undeniable connections between myself with both of these flawed, magnanimous, and tortured characters. To be honest, I think that Hamlet and Holmes are two of the most spectacular characters ever written; they are so deeply aligned with their own psyches, much to the exclusion of the people and their societies around them, that they demonstrate perhaps the greatest understanding of mental acuity of all of humanity. I am humbled before them (and of course, Will Shakespeare and Sir Arthur Conan Doyle).

My greatest wish is to one day be as aware of the intricacies of the connections that surround us as humans as were some of the greatest writers to ever live. I also hope the same for my children, Max and Jack, that they are as sensitive to, and aware of, the difficulties and joys of being human in our world.

Oh yeah. I'm married, have two teenaged sons, three cats, a couple of rats, and a dog that thinks she's a cat. Essentially, I live in a zoo. And I'm okay with that.

"... [an] often entertaining romantic story."
– Kirkus Reviews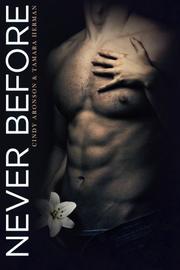 ROMANCE
Never Before
BY Tamara Herman • POSTED ON Oct. 17, 2015
A young woman must open up and face her past when she meets the man of her dreams in this melodramatic debut romance.
Twenty-two-year-old Lily Stone lives with her best friend in a smashing Toronto apartment and gets a job with the very best hipster magazine. Diagnosed with body dysmorphic disorder, she often berates herself about her looks and has far more sex in her fantasies than in her bedroom. But when she meets the magazine's handsome owner, Ryder Bishop, he falls head over heels for her. After he learns her name, he realizes that he knows her family from a past tragedy. Their elegant first date leads to deep kissing, but nothing more physical, and flashbacks reveal that Lily has a history of sexual abuse. However, a second date in Ryder's decadent penthouse leads to pages upon pages of adverb-laden sex scenes. Lily feels safe enough to enjoy Ryder, but still dashes off in the morning for her therapy appointment. As the couple falls deeper in love, Lily opens up about her body and her past to both Ryder and her best friend, and both respond with compassion. But Ryder has yet to tell Lily his secret, which threatens to be exposed when Ryder's estranged father is released from prison. Lily finally overhears the secret at a party, and the two lovebirds must weather to storm that follows. This story is a fun jaunt through the city's classiest neighborhoods, with enough glitz and decadence to entertain. The melodrama that begins the novel ("Ryder gasped, clamouring for breath as if all the oxygen in his lungs had suddenly been removed") eventually calms into a more compelling story. However, the book describes Lily's body dysmorphia not so much by her experiences, but by clunkily repeating the disorder by name, along with long paragraphs of description. The story is more about Ryder than it is about Lily's personal journey; she doesn't learn to love herself so much as she's relieved that someone so wonderful could love her. Overwritten descriptions threaten to capsize every sex scene (at one point, Ryder places Lily on his "sumptuous heathered graphite duvet"). However, the number of sex scenes is generous and, in the end, they don't encumber the plot.
An unevenly written but often entertaining romantic story.
Review Posted Online: Nov. 3, 2015