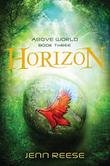 ---
"A fitting finale for a gripping futurist series whose four multifaceted heroes offer a strong anti-war, pro-diversity message. (Science fiction. 10-16)"
---
This last volume of the Above World trilogy opens where
Mirage
(2013) ended, with Aluna, Hoku, Dash and Calli determined to save their genetically modified races from megalomaniac Karl Strand and his technically enhanced Upgrader army.
Read full book review >
---
"A powerful sequel with sustained themes of friendship and honor. (Science fiction. 10-14)"
---
In this sequel to
Above World
(2012), best friends Aluna and Hoku pursue their quest to prevent power-mad Karl Strand from controlling a futuristic world in which genetically modified races live in the oceans, skies and deserts.
Read full book review >
---
"Imaginative and riveting. (Science fiction. 10-14)"
---
In a future world in which habitable space has been exhausted, Humans have physically modified to survive in the skies, oceans and deserts.
Read full book review >