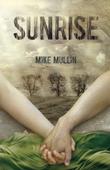 SUNRISE
---
"A story about how hope is earned, as heart-pounding as it is heart-wrenching. (Speculative fiction. 14 & up)"
---
---
"A violent, desperate adventure in a chaotic, post-disaster world. (author's note) (Adventure. 14 & up)"
---
Almost a year after the Yellowstone eruption in
Ashfall
(2011), Alex and Darla are drawn back to dangerous Illinois, which has only grown worse.
Read full book review >
ASHFALL
---
"In this chilling debut, Mullin seamlessly weaves meticulous details about science, geography, agriculture and slaughter into his prose, creating a fully immersive and internally consistent world scarily close to reality. (author's note) (Speculative fiction. 14 & up)"
---
"The pre-Friday world of school, cell phones, and refrigerators dissolved into this post-Friday world of ash, darkness, and hunger."
Read full book review >