---
"Readers will beg for the follow-up to this tense, well-plotted sequel. (Science fiction. 12-17)"
---
The heroes of
The Lost Code
(2012) race to stay ahead of EdenCorp and reach the powerful, climate-altering Paintbrush of the Gods first.
Read full book review >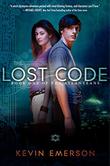 ---
"Between Owen, likable in his thoughtfully awkward way while evolving into a hero, and the lovingly crafted setting, Camp Eden offers summer escapism. (Science fiction. 11-17)"
---
Coming-of-age story meets conspiracy thriller at a summer camp in a post–climate-catastrophe world.
Read full book review >