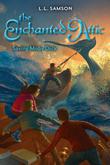 ---
"Though plainly crafted to spark and model book discussions, the tale is generously infused with animating elements of mystery, romance and comedy—plus a particularly lively and diverse supporting cast of grown-ups. (Fantasy. 12-14)"
---
Fresh from their experiences with Quasimodo in the series opener (
Facing the Hunchback of Notre Dame
, 2012), three young people again use an elusive inventor's magic, painted circle to bring a literary character to life.
Read full book review >
---
"Jam-packed and well-intentioned but ultimately dull and disappointing. (Fantasy. 11-13)"
---
Readers who enjoy the arch tone and endless instructive asides of Lemony Snicket might appreciate this first entry in The Enchanted Attic series, but most will be uninterested in the cardboard characters and anticlimactic plot.
Read full book review >