---
"Here's hoping that this latest volume attracts droves of new devotees for some of the coolest girls in fiction. (Adventure. 12-16)"
---
Kiki Strike and the Irregulars are
finally
back, in their third (and seemingly final) adventure.
Read full book review >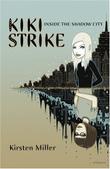 ---
"All in all, an absurdly satisfying romp for disaffected smart girl, with hints of more to come. (Fiction. YA)"
---
An arch story of deposed princesses, Girl Scouts gone wild and the world beneath New York City.
Read full book review >