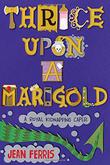 ---
"A delicious confection for fans of the previous operettas, reminiscent in tone and content to Patricia Wrede's Enchanted Forest Chronicles. (Fantasy. 11-13)"
---
A royal kidnapping leads to romance for the rescuers and justice for the culprits in this airy series' latest episode.
Read full book review >
---
"For full appreciation, readers should start with the opener. (Fantasy. 11-13)"
---
Lightning doesn't strike twice, but this follow-up to the delicious romantic comedy Once Upon A Marigold (2002) goes down as easily as one of the yummy dishes crafted by anagrammatically named chef/toymaker/jolly-old-elf Stan Lucasa.
Read full book review >
---
"Fans of Gail Carson Levine's Princess Tales will be in familiar territory here, as well as seventh heaven. (Fiction. 11-13)"
---