---
"Better-read fans will discern strains from Swift, Tolkien, Burroughs and others (not to mention Grey's Anatomy and Fantastic Voyage) within this climactic orchestral cacophony of ickiness and farce. (Burlesque horror. 11-14)"
---
Frequent shifts in point of view amid a welter of journeys, captures, escapes, lampoonery and alien invasions cap the Norumbegan Quartet with a patchwork close.
Read full book review >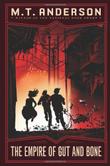 ---
"Readers new to the series will find themselves hopelessly lost; returning fans will find the unapologetically intellectual looniness uncannily, happily familiar. (Fantasy. 12-14)"
---
The third of what is now billed as the Norumbegan Quartet, this sequel to Game of Sunken Places (2004) and Suburb Beyond the Stars (2010) gives new meaning to the term "introspective."
Read full book review >
---
"As with so many games, the fun of the novel is not in the ending but in the getting there, and readers willing to suspend every ounce of disbelief will be rewarded by this smart, consciously complex offering that never panders to its middle-grade audience. (Fiction. 10-14)"
---
When wise-cracking Gregory and brainy Brian go to Vermont to visit Gregory's "strange . . . [p]robably insane" Uncle Max, they "couldn't know what an adventure it would be."
Read full book review >