---
"The potential strength of this presentation would be as a read-aloud to grade-schoolers, who would, no doubt, enjoy the difficulties the adult reader would encounter, wading through all the wacky words. (Fantasy. 8-11)"
---
Two imaginative 10-year-old boys embark on a disbelief-suspending adventure in this second of a series.
Read full book review >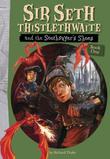 ---
"Cressida Cowell's How to Train Your Dragon books, Kate McMullan's Dragon Slayers' Academy and the storied Magic Tree House all render this painfully patronizing series unnecessary. (Fantasy. 7-10)"
---