---
"A wild, roller coaster ride despite the credibility-stretching ending. (Adventure. 11-13)"
---
The third and concluding volume in Smith's breakneck Storm Runners trilogy shifts the scene from a circus' devastated winter quarters in hurricane-wracked Florida to the ominously active Mexican volcano Popocatepetl.
Read full book review >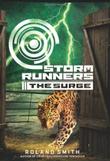 ---
"A high-velocity page-turner, for all that it's only a segment of a larger arc. (Adventure. 11-13)"
---
Family members separated in a Florida hurricane struggle to get back together, but the waters are rising fast and big cats are on the loose in this sequel to
Storm Runners
(2011).
Read full book review >
---
"Since they are left sharing a barn with an elephant who is about to give birth as a vicious escaped leopard roams outside, readers are really going to want to find out what happens next. (Adventure. 11-13)"
---
Readers will really feel blasts of wind, water and flying debris in this disaster tale—at least until the narrative cuts off in mid-howl.
Read full book review >