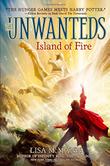 ---
"Projected to run through four more volumes, the storyline doesn't advance much here—but the quick pace, unresolved issues and Hogwarts-ian setting will keep the audience Wanting more. (Fantasy. 10-14)"
---
McMann builds her newly minted mage's self-confidence, firms up some emotional hookups and pitches her burgeoning cast into a series of rescues in this middle volume.
Read full book review >
---
"A cliffhanger ending with plenty of unsolved mysteries ensures the return of readers in the next installment. (Fantasy. 9-13)"
---
---
"Blending elements from two popular genres, this is sure to be a double hit. (Dystopian fantasy. 10-14)"
---
The Hunger Games meets Harry Potter in this middle-grade departure from McMann's string of paranormal mysteries with romance for young adults.
Read full book review >