After two years of the pandemic, I'd been finding it hard to concentrate on anything longer than an article about Omicron. But if there's one thing that can pull me into a book, it's a compelling voice, and I've been entranced by three supremely confident narrative voices this year.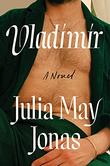 "When I was a child, I loved old men," purrs the narrator of Julia May Jonas' debut novel, Vladimir (Avid Reader, Feb. 1), in the first line of the book. What did she like about them? "Old men are composed of desire. Everything about them is wanting. They have appetites for food, boats, vacations, entertainment. They want to be stimulated. They want to sleep.…And of course, they desire the adoration of a sexual partner, even if only in their imaginations, through the blue light of their television screens." A few paragraphs later, we learn that she has a man named Vladimir tied to a chair, passed out—but he's a young man, 40 to her 58, and it's she who's recklessly following her desires. Jonas' narrator is smart, spiky, confiding, and insinuating, and it isn't clear if she's astringently cleareyed about herself or completely delusional, making her a delightful literary companion.
The narrator of Antoine Wilson's Mouth to Mouth (Avid Reader, Jan. 11) is much less in your face. In fact, he isn't even telling his own story. As the book opens, he's already exhausted, a not-very-successful writer in the middle of an uncomfortable journey from Los Angeles to Berlin, where he's hoping to capitalize on his perhaps apocryphal status as a cult novelist. Sitting at the gate at JFK, waiting for his next flight, he runs into Jeff Cook, an old acquaintance from college, who invites him into the first-class lounge and proceeds to tell him a story he's never told anyone before, about how he saved a drowning man's life and changed the course of his own.
Some chapters begin with scenes set in the lounge, the narrator enjoying the novelty of free food and drinks, the two men discussing Jeff's story. Then, unobtrusively, the narrative will slip into what feels like a straight-up third-person, though we know it's the narrator relating Jeff's story as it was told to him—so we have two layers of unreliable narration. Is Jeff telling the truth about the way he accidentally insinuated himself into the life of the man he saved—a successful art dealer—without revealing that he was the person who'd dragged him from the ocean and performed CPR? Or is he slanting things to make himself look better? If he's lying, is he lying to himself or only the narrator? And how about the narrator—should we trust his version of Jeff's story, or is he swayed by envy of his acquaintance's first-class privileges, or maybe just trying to sell books? Our review called the book "a deliciously nasty morality play in the guise of a thriller," and I read it in a day, eager to see what happens.
Julie Otsuka's The Swimmers (Knopf, Feb. 22) starts with a first-person-plural narrative, told from the perspective of the regular patrons of an underground pool in a college town. The chapters are divided into short blocks of text, each almost like a poem, with frequent, beautifully modulated lists bringing in the perspectives of the various members of the collective voice: "Most days, at the pool, we are able to leave our troubles on land behind. Failed painters become elegant breaststrokers. Untenured professors slice, shark-like, through the water, with breathtaking speed.…Worriers stop worrying. Bereaved widows cease to grieve.…Bad moods lift, tics disappear, memories reawaken, migraines dissolve, and slowly, slowly, the chatter in our minds begins to subside as stroke after stroke, length after length, we swim."
Eventually, one character emerges as the focus: Alice, an older swimmer whose dementia progresses over the course of the book. The next section is written in the second person, addressed to Alice's daughter as her mother goes to live at a memory-care facility, and the last section is addressed to Alice herself as her memory declines. Otsuka's gorgeous prose makes the book feel deceptively light at first, but by the end it's a powerfully moving portrait of the end of a woman's life.
Laurie Muchnick is the fiction editor.