Jenna Bush Hager has selected Joanna Quinn's The Whalebone Theatre as the latest pick for her Today show book club—and this time, she has company.
Hager announced the selection on the morning show, revealing that the novel is a joint pick with Camilla, the queen consort of the United Kingdom.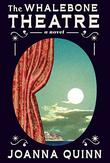 "[Camilla] has her own book club, the Reading Room, so we joined forces to select this incredible debut novel for our beloved readers on both sides of the pond," Hager said.
Quinn's novel, which Knopf published Tuesday, follows a girl who builds a theater out of the ribcage of a beached whale and later becomes a spy in Nazi-occupied France during World War II. A critic for Kirkus wrote of the book, "This big, old-fashioned, seriocomic 'crumbling estate' family saga works best before the war comes along."
In a taped segment, Quinn discussed her book with Hager at the Dumfries House, a mansion in Scotland; the two had been invited to the estate by Camilla. Quinn recalled getting the phone call that her novel had been selected for Camilla's book club.
"I was at home with my daughter, surrounded by the usual chaos," Quinn said. "I think I held it together during the call. I was quite calm. But afterwards, I just rang my sister and made weird noises down the phone at her.…She swore quite a lot back at me in surprise, and then we just made weird noises together."
Michael Schaub, a journalist and regular contributor to NPR, lives near Austin, Texas.