Eleanor Oliphant is headed to the big screen.
A film adaptation of Gail Honeyman's bestselling Eleanor Oliphant Is Completely Fine is in the works for MGM, Deadline reports. The movie will be directed by Harry Bradbeer, known for his work on the television series Fleabag.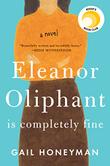 Honeyman's 2017 novel follows a lonely, socially awkward woman who becomes friends with another misfit, an IT worker in her office. A critic for Kirkus called the book, which was the first-ever pick for Reese Witherspoon's book club, an "endearing debut [that] is part comic novel, part emotional thriller, and part love story."
In a 2017 interview with BookPage, Honeyman said she was inspired to write the book after reading a newspaper article about loneliness.
"[W]hen loneliness is discussed in the media, it's usually in the context of older people," Honeyman said. "When I thought more about it, I realized that there were plenty of potential routes to a young person finding themselves in those circumstances, through no fault of their own, and how hard it can be, at any age, to forge meaningful connections. From this, the story and the character of Eleanor slowly began to emerge."
The screenplay for the film will be written by Georgia Pritchett (Veep, Succession), with Witherspoon and Lauren Neustadter (Big Little Lies, Little Fires Everywhere) to produce. Emily Ferenbach (The Morning Show) will serve as executive producer.
Michael Schaub is a Texas-based journalist and regular contributor to NPR.