After an "informative, powerful, moving" visit to the Legacy Museum and the National Memorial for Peace and Justice in Montgomery, Alabama, in 2018, Lesa Cline-Ransome knew she wanted to write something that memorialized the women lynching victims she learned about. The Coretta Scott King Award honoree—author of 26 acclaimed books for young readers, many illustrated by her Coretta Scott King Award–winning husband, James E. Ransome—imagined it would become her next middle-grade novel. But longtime editor Mary Cash had a different idea.
"She said to me, 'You know, this really has to be a young adult story," says Cline-Ransome, speaking with Kirkus via Zoom from her home in New York's Hudson Valley. "And I thought, Well, it doesn't really."Until that point, she hadn't attempted to write fiction for teens."I may have been holding back because I wasn't sure about writing for a young adult audience. But I soon realized there was no way around it: In order to delve deeply into this subject matter, it had to be for older readers."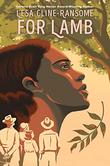 Informative, powerful, and deeply moving, Cline-Ransome's first YA novel is a loving memorial to the women who lost their lives to White supremacist violence. For Lamb (Holiday House, Jan. 10) focuses on a tightknit family living in Jackson, Mississippi, in the 1930s: 16-year-old Lamb Clark, introverted and shy, possessed of a beautiful singing voice and a burgeoning love of reading, is "the meat in the middle of a sandwich, smashed flat in between two hunks of bread that are my momma and Simeon," as Lamb puts it. Older brother Simeon dreams of leaving the South to attend a northern university, where he'll earn a Ph.D. in education, like his high school principal. ("It's like I can always see what's next for me, a little bit further down the road," he says.) Their mother, Marion Ross, moves to her own rhythm. Long separated from her husband, Chester, she supports the family as a seamstress while keeping discreet company with a woman named Myrtle. Her secret lover longs to have a larger role in the family, but Marion's concerns for her children's well-being come first. ("They are the only two things in my life that's ever mattered to me," she says.)
When Lamb accepts the loan of a book from a fellow reading enthusiast, a White girl, a forbidden friendship begins. Great suffering for the Clark-Ross family follows.
"For Lamb is a story about love and sacrifice," Cline-Ransome says. "And it is about the dangers of silence and complicity. But more importantly, it is about the beauty of resistance, and how love and resistance can outweigh the dangers of silence and complicity."
In an admiring review, Kirkus calls For Lamb an "important and resolute depiction of the inhumanity of a still potent problem."
"If we do not continue to tell our own stories in literature, we are at risk of complete erasure," Cline-Ransome says. "It feels completely dystopian to me, the ways in which some legislators and politicians are attempting to erase stories from history—these crucial, important stories that allow marginalized communities to be depicted in their fullness."
She cites as an example the decimation of the College Board's AP African American Studies curriculum at the behest of the Florida Department of Education, with substantial support from conservative politicians including Gov. Ron DeSantis. The state successfully blocked coursework associated with critical race theory, Black Lives Matter, Black feminist thought, and the queer experience, claiming such content "significantly lacks educational value."
"Looking at the ways in which history is aligned with our present moment, and using history as a kind of a roadmap for moving forward today—in terms of how we can utilize community, how we can work together as community to have a voice, vote, mobilize—is important," Cline-Ransome says. She hopes teens will be drawn to the book'sthemes of Black resistance, agency, and sacrifice, and inspired to expand their knowledge of history. "I think young people, in particular, need history to help navigate the present."
With the triumph of For Lamb, Cline-Ransome now navigates the literary world as an author of books for young readers of all ages.
"When I was writing picture books, I could have never imagined writing a chapter book," she says. "Writing a chapter book, never could I have imagined writing middle grade. To be able to push yourself in that way, and to enjoy the process along the way, is really incredible. To be able to do it, to be able to navigate it, is an incredible challenge for a writer. Often, you're doubting yourself all along the way. Then, to have a book in your hand—it's really one of those moments where you think, Wow, there's really nothing I can't do.
"Watch out," she says. "I'll be talking to you next year, and I'll have an adult book in my hand."
Editor at large Megan Labrise hosts the Fully Booked podcast.