The first volume of former President Barack Obama's memoir, A Promised Land, is out today, and the good reviews have already started trickling in.
In a starred review, Kirkus' critic praised the "smoothly written" and "often surprisingly candid" account of Obama's road to the White House, singling out his "cleareyed scene-setting for how the political landscape would become so fractured." The overall assessment? "A top-notch political memoir and serious exercise in practical politics for every reader."
The most prominent critic to take on the book so far is Chimamanda Ngozi Adichie, who reviewed the memoir for the New York Times Book Review.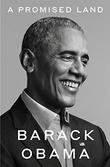 "Barack Obama is as fine a writer as they come," Adichie says. "It is not merely that this book avoids being ponderous, as might be expected, even forgiven, of a hefty memoir, but that it is nearly always pleasurable to read, sentence by sentence, the prose gorgeous in places, the detail granular and vivid."
The Times' Jennifer Szalai also weighed in, writing, "The tone that Obama strikes in lines like these is almost mournful. He shows how a certain kind of blunt candor seemed all but unavailable to him as the first Black president."
Ron Elving of NPR writes that fans of Obama will likely love the book, while his critics will still find something to dislike. But, he concludes, "it is an invaluable piece of the puzzle historians will struggle to put together from here forward. If it takes time and effort to take it all in, it's worth it.
CNN's Peter Bergen finds the book "moving [and] beautifully written.
"We will have to wait for Obama's next volume," Bergen writes, to find out about Obama's presidency after 2011. But, he says, "That will surely be another very compelling book, Mr. President."
Michael Schaub is a Texas-based journalist and regular contributor to NPR.