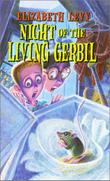 ---
"Young chapter-book readers may stay up late to finish this, but it won't give them sleepless nights. (Fiction. 8-10)"
---
After an overlong absence, the all-too-suggestible Bamford brothers (Frankenstein Moved in on the Fourth Floor, 1979; Dracula Is a Pain in the Neck, 1983) again let their imaginations get the better of them.
Read full book review >
---
"Basso's funny cartoon illustrations are energetic and will have children snickering over the silliness. (Fiction. 6-8)"
---
paper 0-440-41440-7 Henry is going home with his new friend, Artie Doomsday, for the first time, and he's worried.
Read full book review >
---
"An entertaining confection. (b&w illustrations, not seen) (Fiction. 7-10)"
---
In this first of the Dragon Slayers' Academy series, Wiglaf, the put-upon sensitive son in a family of louts, heads off to school along with his faithful pet pig, Daisy.
Read full book review >