---
"The third action-packed case for Manny (Death Where the Bad Rocks Live, 2012, etc.) teems with historical interest, even if you're not a re-enactor."
---
DEATH WHERE THE BAD ROCKS LIVE
---
"An exciting and quirky mystery that seamlessly shifts between past and present, offering a number of finely delineated characters and a strong sense of life on the reservation and the beauties of a hostile land."
---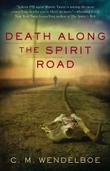 ---
"Wendelboe paints a vivid portrait of life on the reservation and deftly mixes history with a satisfying mystery in this series debut."
---
Eighteen years away from South Dakota has not erased the pull of the past for an FBI agent come home.
Read full book review >