---
"Essential insights, masterfully assembled, on the precarious state of American publishing."
---
A cast of literary professionals offers an entertaining bounty of experience, opinions and advice.
Read full book review >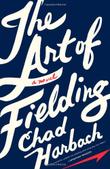 THE ART OF FIELDING
---
"A promising debut—and one guaranteed to draw attention, for it commanded an unusually big advance and will likely be pushed accordingly. Stay tuned."
---