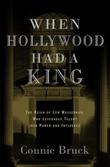 WHEN HOLLYWOOD HAD A KING

: THE REIGN OF LEW WASSERMAN, WHO LEVERAGED TALENT INTO POWER AND INFLUENCE
---
"A monumental piece of work, stuffed to the gills with both clean and dirty secrets, certain to be de rigueur poolside reading in Beverly Hills this summer."
---
The story of MCA and its unrivaled influence on the culture and business of entertainment under perhaps the most powerful man about whom most Americans know nothing.
Read full book review >
---
"By retaining her mental balance about her subject, Bruck allows the reader to enjoy mental balance as well."
---