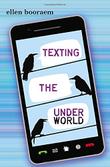 TEXTING THE UNDERWORLD
---
"Like Conor, readers will emerge from this adventure a little bit better equipped for heroism than before. (Fantasy. 10-14)"
---
Fantasist Booraem (
Small Persons with Wings
, 2011, etc.) turns her attention from art to another great human endeavor: death.
Read full book review >
SMALL PERSONS WITH WINGS
---
"Frequently hysterical dialogue, a hugely sympathetic protagonist and a baroque concatenation of magics and counter-magics will keep readers glued to this smart, earthy and thoughtful tale. (Fantasy. 10-14)"
---
THE UNNAMEABLES
---
"A sort of combination of witch-trial–era Salem and The Giver, this book offers a treat with nearly every page turn. (Fantasy. 10-14)"
---