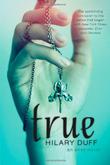 ---
"Danger romance at its most digestible, ready to be gobbled and forgotten. (Paranormal romance. 14 & up)"
---
If someone's your true love, just stay devoted while he slams you into the wall and crushes your best friend's hands until she passes out.
Read full book review >
---
"Nice-guy supporters will resent the bum rap Duff gives to Ben, Clea's other admirer, but they're the wrong audience for this purple, obsessive, murderrific series opener. (Paranormal romance/horror. YA)"
---