---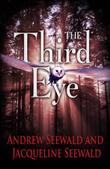 ---
"Veteran Seewald (Death Legacy, 2012, etc.) is joined by her son Andrew for this weak mystery that nevertheless presents some interesting characters and historical tidbits about the Pine Barrens, its real star."
---
---
"Veteran Seewald, who's written a number of mysteries and thrillers (The Truth Sleuth, 2011, etc.), this time offers plenty of sex and not much else."
---
---
"Shelving this sudser with the mysteries would be only the first mistake for any librarian who added Seewald's third to her acquisitions list."
---