---
"Overall, their enthusiasm marks the authors as true believers that the efforts of mankind (yes, mostly men) to take on complexity, achieving both beauty and order, will succeed. (8-page color insert, not seen)"
---
From the English team that brought you The Arrow of Time (1991), more on the general theme that the most interesting things in life are nonlinear, asymmetric, chaotic, and complexin short, not user-friendly, but perhaps computable.
Read full book review >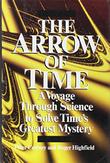 ---
"In addition, the authors provide some fascinating examples of biorhythms and patterning in chemical and biological clocks, and in self-organizing systems from slime molds to the mammalian embryo. (Color and b&w photographs—not seen.)"
---
It is the ambition of all research, the authors quote 19th- century scientist Willard Gibbs, ``to find the point of view from which the subject appears in its greatest simplicity.'' However, it is the ambition of these same authors (Coveney: Physical Chemistry/Univ. of Wales; Highfield: science editor of the London Daily Telegraph) to demonstrate that simplicity doesn't get you very far in the real (macroscopic) world of time and space.
Read full book review >