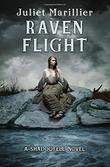 ---
"Marillier's many fans will be pleased to see the threads continue to unroll and will eagerly anticipate the battle to come. (map) (Historical fantasy. 13 & up)"
---
The second volume of Marillier's Dark Ages fantasy picks up right where the first (
Shadowfell
, 2012) left off.
Read full book review >
---
"Proper fantasy, balanced between epic and personal; this promises to be an engrossing series, with intimations of bigger things ahead. (Historical fantasy. 13 & up)"
---
In an alternate ancient British Isles, an intrepid heroine may save the kingdom from its wicked ruler.
Read full book review >