Think of one word that captures Paul Newman. Legendary? Luminary? What about…ordinary?
For despite dazzling audiences as Butch Cassidy, Hud, and Cool Hand Luke, Newman underscores his banality in the posthumously published memoir The Extraordinary Life of an Ordinary Man (Knopf, Oct. 18). Gleaned from tape-recorded interviews with screenwriter Stewart Stern and from manuscripts discovered in the home he shared with Joanne Woodward (also a legend and the actor's wife for 50 years), Newman's self-assessment is damning, even lacerating; he senses nothing exceptional in his character or his talent. Trundling stoically through an Ohio childhood with a mentally unstable mother and a cruel father, he would bang his head against his bedroom wall just to feel something. He endured military service and, later, movie stardom as if "anesthetized." Because he "never enjoyed acting," he'd drink—again, to feel something—which led to alcohol abuse. In the book's oft-repeated phrase, he calls himself an "emotional Republican."
However, because the interviews were conducted after the actor turned 60—when he became, forgive the pun, a new man—someone extraordinary emerges. Aging meant thriving for Newman: in his philanthropic work, in riskier creative projects, and in his second career as a race car driver. The decades before his death, at age 83, in 2008 were brimful with feeling and fellowship—and Newman's vulnerable, autumnal tone captivated Knopf editor Peter Gethers. "With the possible exception of Elia Kazan's, I don't think I've ever read a memoir that was as searingly honest and probing as this one," he tells Kirkus. "The difference is that, unlike Kazan,"—who, coincidentally, played a major role in Newman's development—"the more Newman revealed himself, his past, and his insecurities, the more you liked him."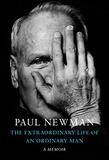 Because Newman was Hollywood royalty, acquiring the property at auction was no cinch. "There were days of conversations with the daughters, who were controlling the rights," recalls Gethers. "After the first couple of rounds, it was about a lot more than money." Gethers consulted with Melissa Newman and Clea Newman Soderlund, two of three daughters Newman had with Woodward. (The actor also had three children with his first wife, Jackie Witte, including Scott Newman—Paul's only son—who died of a drug overdose in 1978.) "They were protective of their father's legacy but also looking for a publication that was as honest as the words their father had left behind." Gethers believes that what may have persuaded the daughters was the cover. "We did not go with the most beautiful picture of Paul. We went with the older Newman: half-revealing and half-hiding himself—exactly what the book is about. They said their father would have been thrilled."
Enter David Rosenthal, the editor tasked with creating a cogent narrative from 1,500 pages of out-of-order transcripts. "These were free-associative, rather intimate conversations—and there was another massive trove of interviews Stern had done: ranging from Paul's boyhood friends to collaborators like George Roy Hill, Eva Marie Saint, Sidney Lumet…you name it. Fortunately, everybody seemed to be freed up by Paul telling them, 'Say anything you want.' " Newman's mandate for Stern as interlocutor was to expose all warts—whether offered up by the actor or anyone else. As a result, the interstitial voices often add a comic counterpoint to Newman's self-deprecation. (These voices may be familiar to viewers of The Last Movie Stars—a CNN Films/HBO Max documentary co-produced by family friend Emily Wachtel using some of the memoir's source material but concentrating on Newman's marriage to Woodward.)
After months of compiling and pruning, Rosenthal delivered a chronological account of Newman's life, in Newman's voice, to Newman's daughters—albeit gingerly. "Melissa may have been taken aback by her father's tone; it seemed tortured," he explains. "We talked about it. I told her: 'As an outsider, these are the words of someone who's quite depressed. Even so, remember, he was productive. He made a lot of movies and raised two families.' " Melissa, who penned the book's foreword, admits she was initially thrown. Speaking from her childhood home in Connecticut, she explains: "Because it's all in direct response to Stewart, who was pressing him—I think the editors became enamored of my father's self-denigration and darkness. And Stewart could push my dad because he was like family: He performed my marriage—my middle name is Stewart! But I wanted the book to be more back and forth, playful." So Melissa did a second dive into the transcripts, exhuming material Rosenthal characterizes as, "Well…'brighter.' Which made sense—the man did seem to flourish as we went along."
Newman was, indeed, a late bloomer: After 10 nominations, he finally won a best actor Oscar for The Color of Money in 1986, and he went on to do his most textured acting—in Nobody's Fool, The Road to Perdition, and, with Woodward, Mr. and Mrs. Bridge—only after winning a lifetime achievement award. At 77, he returned to Broadway to assay Thornton Wilder's Our Town—a production nurtured at Westport Country Playhouse, where Woodward was artistic director. What's more, Newman became a major sports champion in race car driving—at an age most of us associate with puttering and gardening. He holds the record as the oldest winner, at 70, in his class of the 24 Hours of Daytona Endurance Race. (Endurance Race could be an apt alternative title for his memoir.)
Speaking from her home in Connecticut, Clea says: "My father loved racing so much he probably would've quit acting to do it. But philanthropy was his true legacy. He changed my life in that regard. I was going to be a lawyer!" (She is the ambassador to the Serious Fun Children's Network and the chair of Wild Earth Allies.) In her afterword, Clea cites a remarkable statistic: "The Economist noted he was 'the most generous individual, relative to his income, in the 20th-century history of the United States.' " Clea suggests that this generosity finally extended to his emotional life: "He became like a big kid—and everyone saw him that way. Maybe doing the tapes [with Stewart Stern] helped crack him open."
But did Newman want a published memoir to be part of that legacy? "It's clear from the transcripts that he vacillated," says Rosenthal. "One day he's aboard, the next day it's 'why would I want to do this?' And these almost-psychiatric conversations with Stern were found in a file cabinet in the basement—they had to get a locksmith to open the damn thing!" In fact, Newman may have burned several cassettes after completing the interviews. "I know about that rumor," says Melissa. "Hey, as far as I know he did! But my dad's will specifies we have the right to create a biography, and the transcripts make clear the only question was: How unedited should it be? At one point he says to Stewart, 'Just give it to the kids, let them release it all.' "
That's an echo of the declaration Newman made after founding his nonprofit foundation: "Let's give it all away!" In fact, Newman's third act was so full of giving, of sharing, of genuine feeling, that one early anecdote rises to the level of metaphor: During Kazan's production of Sweet Bird of Youth, a young actor—unable to conjure authentic tears—tricks his audience by staring unblinkingly at a bright bulb in the auditorium. Years later, his mask of coolness gone, that same man cares less about others' focus on him and turns his focus to…others. So does that make Paul Newman ordinary or extraordinary, that rare luminary who—ultimately, authentically—sees the light?
Steven Drukman is a writer in New York.