Ali Smith has won the Orwell Prize for political fiction for Summer, the final novel in her Seasonal Quartet.
Smith's novel, about a troubled family, addresses contemporary issues such as Covid-19, Brexit, and the refugee crisis. In a starred review, a critic for Kirkus called the book "a deeply resonant finale to a work that should come to be recognized as a classic."
"The conclusion to Ali Smith's seasonal quartet seals her reputation as the great chronicler of our age," the prize judges said. "It will serve as a time-capsule which will prove to be essential reading for anyone seeking to understand the mood of Britain during this turbulent time."
The Orwell Prize for political writing went to Joshua Yaffa for Between Two Fires: Truth, Ambition, and Compromise in Putin's Russia. A reviewer for Kirkus praised the book for its "gripping, disturbing stories of life under an oppressive yet wildly popular autocrat."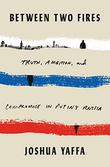 "A magnificent and moving account of everyday life in Putin's Russia, this book explores the moral psychology of compromise and the difficulties of pursuing one's ambitions, while living with integrity, or not, in the face of demands from an overmighty state," the judges said. "Beautiful and haunting, the book illuminates the challenges of moral life and the ways in which authoritarian rule is maintained."
The Orwell Prizes were founded in 1993, and the awards for political fiction and political writing were each given their own category in 2019. Past winners include Patrick Radden Keefe for Say Nothing and Colson Whitehead for The Nickel Boys.
Michael Schaub is a Texas-based journalist and regular contributor to NPR.