Three years ago, writer, photographer, and archaeologist Laura Formentini was on assignment in Ethiopia when she received a phone call from her oldest son, Shane, with news a mother never wants to hear: Her youngest son, Blaise, had killed himself. 
"The pain was unbearable," she recalls. "And that's when I started writing. In the beginning, I was just writing to heal myself."
What she began writing were fables, each containing a specific moral. "I had already written a couple of fables, and out of the blue I had this dream that I [would] write 21 fables," she says. "I decided to write 21 fables honoring the 21 years of my son's life."
The result is the book Twentyone Olive Trees: A Mother's Walk Through the Grief of Suicide to Hope and Healing, which Kirkus Reviews calls "an offbeat and uplifting contribution to the literature of grief." Each fable is followed by a note, often written in the form of a poem, to Blaise.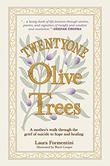 For Formentini, writing was a way to cope with the overwhelming grief she felt after losing her son. "In the beginning, I realized I had all these emotions and energy swirling inside me," says the author, who practices Transcendental Meditation. "Writing was the very first step for me—poems and letters to Blaise and, eventually, fables. Little by little, [they] became a book." 
Twentyone Olive Trees is the first book for Formentini, who says her job "focuses on nonprofit, ethical photography," which includes a lot of work and fundraising for animal welfare organizations. At the time of his death, Blaise, a filmmaker, was working on a documentary with his mother. 
"He was a highly sensitive person, an empath just like [me]," she says. The two had a close relationship, living together in the U.S. and Europe (Formentini splits her time between Northern California and the south of France) and traveling all over the world. "We could oftentimes finish each other's sentences," she says. "We really understood each other. It was more than being a mother and son. It was a true friendship."
The poems and letters in Twentyone Olive Trees, including "One Thing," one of the first in the book, follow Formentini's journey to deal with her grief:
And you know that

I am so hurt

I am so hurt

Because my Love for you was the best

And it still is

But you are no longer there to listen

And no longer there to take from me

With a smirk you left me

In this motionless reality

That makes no sense 
"The poems can be very raw, especially at the beginning," Formentini says. "I just let everything out without editing anything. You see how this book traces my evolution and transformation from the initial, uncontrollable pain to all the steps back. It was back and forth, back and forth. It's really the five stages of grief that this book portrays." 
The writing process was an interesting phenomenon for Formentini. "Once I reached that momentum of creativity, I knew that I was on a mission to really complete a book," she says. "One very early morning, maybe [around] four…I woke up with a lot of ideas. I went into my office, lit a candle, and started writing. I wrote by hand. The following morning, I'd get up and write again. Something happened to me almost every night. I'd reread it and say, 'Did I write this?' I always felt Blaise's presence as I wrote this book." 
She also realized something in the writing process. "It wasn't just for myself anymore."
After she received the call about Blaise, she was befriended by an Ethiopian she didn't know. "The beauty about this person is he not only was with me all day long, [but] he [also] held my hand all day long," she remembers. "I was shaking, crying, desperate, and he kept saying, 'Are you OK, sister? I'm your brother, and I'm here for you.' He calmed me down. I truly thought he was an angel."
Formentini later asked him why he did what he did. "He said, 'Sister, I didn't do anything special. It was simply my human responsibility.' " 
Writing Twentyone Olive Trees instilled that responsibility in Formentini. "I felt it just like my friend as he was holding my hand that day," she says. "With this book, I can hold as many hands as possible of people who are grieving, sort of like a friend who is there to hold your hand while you're grieving but lets you go at your own pace."
Formentini has already finished a second book, Coming Home, about her experience working with an orphanage in Kenya. "The book is meant to create a perspective for the so-called 'First World kids,' " she says. "The third book is going to be Sanctuary, [which] includes interviews with several people who have created animal sanctuaries. It includes one in the States, one in Africa, and one in Puerto Rico."
In the meantime, she's working on a TED Talk based on lessons learned from Twentyone Olive Trees. "It's based on my message that I've been refining all these months about what grief really is," she says. "For me, [it's] love that has nowhere to go, that is stuck inside the body. It's negative energy…that we haven't been able to release."
Formentini's planned healing center is also in the works. Her hope is to build it and to plant 21 olive trees in Assisi, Italy. "The olive tree is a symbol of strength, of regeneration and peace," she says.
She talks about Blaise in the present tense when asked what he would think of Twentyone Olive Trees. "I think he's very proud," she says. "It's about grief, but another message of this book is that if you are an empath, you have a gift, and the gift is you are able to spread this love and tenderness that the world needs. It's very [difficult] to live in this harsh world, and he left before understanding he had a gift. We were able to help a lot of people and animals. The con to that is it's very difficult to live with a lot of the materialism and harshness.
"But I definitely think he's proud," she adds. "It's something we did together."
Alec Harvey, past president of the Society for Features Journalism, is a freelance writer based in Alabama.