Christine Pride and Jo Piazza's We Are Not Like Them is the newest pick for the Good Morning America book club.
Deborah Roberts of ABC News revealed the selection on the morning show, calling the novel "a powerful and provocative story about race, friendship, forgiveness and justice."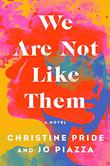 Pride and Piazza's novel, published Tuesday by Atria, follows two longtime friends whose lives are thrown into disarray when one of their husbands, a Philadelphia police officer, shoots an unarmed Black teenager. A reviewer for Kirkus wrote, presciently, "With its timely premise, clear-cut messages, and appealing female characters, this novel is bound for book-club glory."
"As you can imagine, there's lots to think about and there's lots to talk about with your book club," Pride told GMA viewers. "And we hope you love the book."
Piazza reacted to the book's selection on Instagram, writing, "So this morning we got to be interviewed by the absolutely incredible @debrobertsabc who blew us away with her thoughtful questions and commentary about our book!!! Our book! We still can't believe that our book is an @gmabookclub pick and that we get to share it with so many of you."
This month marks the second anniversary of the GMA book club. Previous selections have included Kevin Kwan's Sex and Vanity and Liz Moore's Long Bright River.
Michael Schaub is a Texas-based journalist and regular contributor to NPR.