Amity Gaige is a graduate of Brown University and the Iowa Writer's Workshop. O My Darling is her first novel. She lives in Cranston, Rhode Island where she is at work on a new novel.
---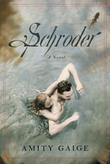 SCHRODER
---
"Smart, comic, unsettling, yet strangely of a piece—not unlike its disarming lead character."
---
A man's collapsed marriage and growing madness imperils his young daughter in this bracing third novel by Gaige (
The Folded World
, 2007, etc.).
Read full book review >
THE FOLDED WORLD
---
"Gaige's off-beat orientation, wit and piercing insights stand up to her first novel, this time in a more sober and less tidy narrative that offers greater breadth in exchange for sweetness."
---
An idyllic marriage is tested in this idiosyncratic examination of how the experience of love, its absence and its presence, can shape lives.
Read full book review >
O MY DARLING
---
"With a flavor of Lorrie Moore, graceful, bright, modern writing."
---