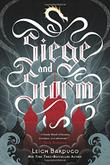 ---
"Scheming and action carry readers at a breathless pace to an end that may surprise them and will definitely leave them panting for the series' conclusion. (Fantasy. 13 & up)"
---
The Grisha Trilogy turns from bildungsroman to political thriller in its second installment.
Read full book review >
---
"The plotting is powerful enough to carry most readers past flaws and into the next book in the series. (classification of Grisha types, map [not seen]) (Fantasy. 13 & up)"
---
In a Russian-inflected fantasy world, an orphan comes into immense power and, with it, danger.
Read full book review >