---
"At times clever, but mostly unsatisfying, this just misses its mark. (Poetry. 6-9)"
---
More than 20 clever riddles keep the pages turning as two children make their way through their days.
Read full book review >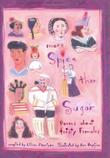 ---
"Morrison closes with notes on the historical figures here, though no information about the poets—still, this makes uplifting reading, meriting a place alongside Ann Whitford Paul's All By Herself (1999) and Isabel Joshlin Glaser's Dreams of Glory: Poems Starring Girls (1995). (Poetry. 8-12)"
---
" ' . . . i'm gonna beat / out my own rhythm,' " proclaims the child in Nikki Giovanni's "The Drum," and Morrison (I Scream You Scream, 1997, etc.) expands on that theme with 44 more forthrightly feminist declarations.
Read full book review >